Robin Hood (18-Oct-1922)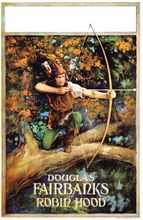 Director: Allan Dwan
Writer: Douglas Fairbanks, Sr.
Keywords: Action/Adventure, Robin Hood, Archery




The Earl of Huntingdon becomes Robin Hood to defend England from the tyrannical Prince John.
ABSTRACT
While fighting for King Richard the Lionheart during the Crusades, the Earl of Huntingdon receives a desperate message from imprisoned love Lady Marian Fitzwalter informing him of Prince John's abuse of power as protector of the English throne. The Earl requests leave from King Richard who, mistaking the request for cowardice, imprisons him; it is there that our hero emerges after escaping from jail. Joining forces with his infamous Merry Men, Robin's sword and fancy footwork bring him closer to John's stronghold, all the while stealing from the rich and giving to the poor through a series of swashbuckling exploits.
REVIEWS
Review by Glenn Kirkland (posted on 12-Mar-2008)
A fabulous movie! I have enjoyed this movie many times. There are so many great scenes in it and tribute has been paid this movie on several occassions. One that comes to mind was in a Bugs Bunny cartoon when Robin says, "Welcome to Sherwood!" The movie stars... Errol Flynn ... Robin Hood Olivia de Havilland ... Maid Marian Basil Rathbone ... Sir Guy of Gisbourne Claude Rains ... Prince John Patric Knowles ... Will Scarlett Eugene Pallette ... Friar Tuck Alan Hale, Sr. ... Little John Olivia de Havilland is a knock-out in this movie and Claude Rains, is delightfully evil. There are some great scenes in this movie, like when Robin and Little John fight with quarter-staffs. Another great scene comes when Robin runs into Friar Tuck. This movie is a shear delight and is viewable by the whole family! There are no computerized, special effects. All the stunts were actually performed. This movie has tension, suspense, humor and is a visual delight. The musical score is great and adds much to the experience.
---
Do you know something we don't?
Submit a correction or make a comment about this profile

Copyright ©2019 Soylent Communications