The Dukes of Hazzard (24-Jun-2005)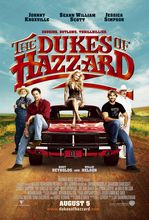 Director: Jay Chandrasekhar
Writers: Jonathan Davis; Kevin Heffernan; Steve Lemme; John O'Brien; Paul Soter; Erik Stolhanske
Keywords: Action/Comedy, Moonshine, Archery, Explosions




Film adaptation of the television series of the same name follows the adventures of a group of wild Southerners and their beloved car.
ABSTRACT
Adapted from the long-running CBS television series of the same name, The Dukes of Hazzard follows Hazzard County, Georgia cousins Bo and Luke Duke, uncle Jesse, and bombshell cousin Daisy as they operate a moonshining business and roll around in their beloved "General Lee" Dodge Charger, running into trouble with sheriff Rosco P. Coltrane and working to foil corrupt county commissioner "Boss" Hogg's plans to steal the family farm out from under them.
[watch trailer]
REVIEWS
Review by Nic (posted on 27-Sep-2005)
This movie was entertaining at times, but it failed to funny, as it failed to do a lot of other things. This movie proves that Jessica Simpson should stick to her day job, and would be nothing without Seann William Scott's funny one-liners. I went to this movie expecting a non-stop laughfest, instead I got a crapfest, full of jokes that are not funny, and singers who just can't act (Jessica Simpson, Willie Nelson). I'm not saying the movie was bad, but it was sure close to it. It's a sad excuse to drive fast cars and blow stuff up.
---
Do you know something we don't?
Submit a correction or make a comment about this profile

Copyright ©2019 Soylent Communications