The Adventures of Robin Hood (14-May-1938)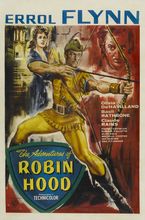 Directors: Michael Curtiz; William Keighley
Writers: Norman Reilly Raine; Seton I. Miller
Music by: Erich Wolfgang Korngold
Keywords: Action/Adventure, Robin Hood, Archery




Prince John plots to usurp the throne from King Richard the Lionheart as Robin and his band thwart him from Sherwood Forest. Errol Flynn shines in this best version of Robin Hood ever made, the picture to which all other swashbucklers shall forever be compared. Produced with a lavish budget of nearly $2M, Robin Hood became the first Technicolor blockbuster. Audiences reacted so well to the preview screening that no subsequent changes were made. Three Oscars: Best Art Direction, Film Editing, and Original Score.
CAST
REVIEWS
Review by William Tyson (posted on 14-Apr-2008)
I remember seeing The Adventures of Robin Hood when I was about ten years old. I thought it was a great film. I still do! I know that its schmaltzy and tame by today's 'explodem' type films, but it has a "feel" to it that just transports you to the time. Color is outstanding, as are sets & photography. Great work for 1938, wasn't it? Shot with the same type of 3-strip, mammoth cameras they used to shoot GWTW, and many more. "The Adventures of Robin Hood" is a true classic in every sense of the word!
---
Do you know something we don't?
Submit a correction or make a comment about this profile

Copyright ©2019 Soylent Communications