Love Me or Leave Me (26-May-1955)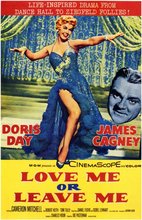 Director: Charles Vidor
Writers: Daniel Fuchs; Isobel Lennart
Producer: Joe Pasternak
Keywords: Drama, Biography, Jazz




Jazz singer Ruth Etting's career is faltering; despite her love with pianist Myrl Alderman she marries a brute that can help her get ahead, Chicago gangster Marty "The Gimp" Snyder. This despite his rape of Etting, most of the scene cut to pass the censor. Features Doris Day in atypical form and at her dramatic best. Received Oscar for Best Story, and nominations for 5 others including Best Actor, Best Score, and Best Screenplay.
| Name | Occupation | Birth | Death | Known for |
| --- | --- | --- | --- | --- |
| James Cagney | Actor | 17-Jul-1899 | 30-Mar-1986 | New York tough guy |
| Doris Day | Actor | 3-Apr-1922 | 13-May-2019 | The Man Who Knew Too Much |
| Richard Gaines | Actor | 23-Jul-1904 | 20-Jul-1975 | Double Indemnity |
| Robert Keith | Actor | 10-Feb-1896 | 22-Dec-1966 | Guys and Dolls |
| Cameron Mitchell | Actor | 4-Nov-1918 | 6-Jul-1994 | The High Chaparral |
| Tom Tully | Actor | 21-Aug-1908 | 27-Apr-1982 | Insp. Matt Grebb on The Lineup |
CAST
REVIEWS
Review by Allen (posted on 27-May-2008)
You should see this film. It shows a dramatic side of Jimmy Cagney and especially Doris Day that you don't see in any of their films. Her songs are just beautiful--including the old '20s standards and the ones written in the '50s. I loved the new song "I'll Never Stop Loving You" and Doris' rendition of torch singer Ruth Etting's hit "Mean to Me". It is just a well-crafted and well-acted film that does not get the recognition it deserves. Go ahead and check it out on a rainy day.
---
Do you know something we don't?
Submit a correction or make a comment about this profile

Copyright ©2019 Soylent Communications