House of Wax (6-May-2005)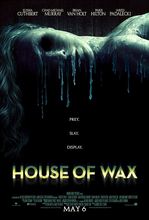 Director: Jaume Serra
Writers: Charles Belden; Chad Hayes; Carey W. Hayes
Keywords: Horror, Wax Museum




Six teenagers stranded in the midst of a bizarre wax museum must find a way to avoid becoming its next exhibit.
ABSTRACT
Six teenagers on a road trip to a big football game experience car troubles the morning after camping out in a rural area along their route, deciding to take a stranger's offer to drive them to a small town by the name of Ambrose after realizing their options are rather limited. Ambrose, home to an unsettling wax museum and a pair of murderous brothers, quickly becomes hell for the sorry teens, as they must fight to find a way out of the town before they are turned into the museum's latest and greatest exhibit.
REVIEWS
Review by A Train (posted on 14-May-2005)
These days when hollywood remakes a movie, It usually has no heart put into it. There are only three remakes in the past 3 years that had the same feel as their predecessors: 1. The Texas Chainsaw Massacre 2. The Amityville Horror 3. House of Wax This was definatlly a remake done right. Same character names as the original but a completely different story entirely. As For gore, Ladies and Gentlemen, the candy shop was open. 1. A peeled off face 2. A Decapitation 3. A Paris Hilton Labotomy... this movie had it all. Amazing movie. If you're looking for a movie to spend your hard earned money on, this is it.
---
Do you know something we don't?
Submit a correction or make a comment about this profile

Copyright ©2019 Soylent Communications