Kingdom of Heaven (4-May-2005)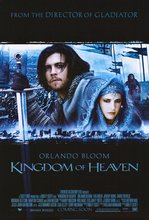 Director: Ridley Scott
Writer: William Monahan
Keywords: Romantic Drama




Historical epic follows a man's unlikely adventures during the bloodiest days of the Crusades.
ABSTRACT
The twelfth century was a time of great change in post-B.C. human history, with the cataclysmic Crusades looking to shape European and Middle Eastern destiny for ages to come. Caught amidst the chaos is Bailan, a humble blacksmith arriving in Jerusalem following the loss of his family and various other challenges to his faith; through the lens of director Ridley Scott, we see how a series of serendipitous events shape our protagonist into a courageous man and unlikely savior of his adopted community.
[watch trailer]
REVIEWS
Review by majyka (posted on 2-Jul-2007)
Some nice camera angles and special effects during battle scenes are the only attraction to seeing the rest of the film after Ed Norton's leprous king dies. Ridley Scott tried, but mediocre at best acting from nearly all of the cast (except Norton) makes this one an easy pass. Orlando Bloom is an insufferable and annoying lead. Or, watch until Norton's character exits and then if the plot is really getting to you, read the rest on Wikipedia. I wouldn'tve understood half of what was going on if I hadn't cheated and read about it first.
---
Do you know something we don't?
Submit a correction or make a comment about this profile

Copyright ©2019 Soylent Communications