The Thing (10-Oct-2011)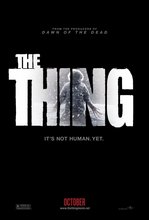 Director: Matthijs van Heijningen
Writer: Eric Heisserer
From short story: Who Goes There? by John W. Campbell, Jr.
Music by: Marco Beltrami
Producers: Marc Abraham; Eric Newman
Keywords: Sci-Fi/Horror, Alien Invasion, Antarctica




Prequel to the 1982 John Carpenter film of the same name tells the story of a discovery of a mysterious spacecraft in Antarctica and its terrifying effects on a research team.
ABSTRACT
A Norwegian research team composed of scientists from various backgrounds discovers an alien spacecraft beneath the Antarctic ice in 1982. Recovering a body believed to be dead from the mysterious craft, the group are shocked to find that their new extraterrestrial companion is very much alive that evening, finding themselves locked in a struggle against a horrifying entity of unknown potential -- henceforth referred to as "The Thing" -- after it begins to "engulf" and subjugate members of the team whilst possessing cells that remain functioning and malignant even after their initial host body is successfully exterminated.
CAST
Mary Elizabeth Winstead
... Kate Lloyd
Joel Edgerton
... Carter
Ulrich Thomsen
... Dr. Sander Halvorson
Adewale Akinnuoye-Agbaje
... Jameson
Eric Christian Olsen
... Adam Finch
Trond Espen Seim
... Edvard Wolner
Kristofer Hivju
... Jonas
Stig Henrik Hoff
... Peder
Jørgen Langhelle
... Lars
Paul Braunstein
... Griggs
Kim Bubbs
... Juliette
Jonathan Lloyd Walker
... Colin
Jo Adrian Haavind
... Henrik
Jan Gunnar Røise
... Olav
Carsten Bjørnlund
... Karl
Tom Woodruff,Jr.
... Supporting Cast
Ole Martin Aune Nilsen
... Matias (Heli Pilot)
Michael Brown
... Security Guard
REVIEWS
Do you know something we don't?
Submit a correction or make a comment about this profile

Copyright ©2019 Soylent Communications