A Man For All Seasons (12-Dec-1966)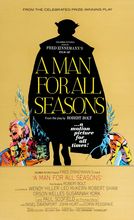 Director: Fred Zinnemann
Writer: Robert Bolt
From a play by: Robert Bolt
Music Composed and Conducted by: Georges Delerue
Producer: Fred Zinnemann
Keywords: Drama, Biography, British Royalty




Sir Thomas More, Lord Chancellor of England, refuses to give assent to King Henry VIII's divorce from Catherine of Aragon; his loyalty is divided between Henry and the Roman Catholic Church. Won Oscars for Best Picture, Best Actor, Best Director, Best Adaptation, Best Cinematography and Best Costume Design; received additional nominations for Best Supporting Actor and Actress.
[watch trailer]
| Name | Occupation | Birth | Death | Known for |
| --- | --- | --- | --- | --- |
| Colin Blakely | Actor | 23-Sep-1930 | 7-May-1987 | The Private Life of Sherlock Holmes |
| Nigel Davenport | Actor | 23-May-1928 | 25-Oct-2013 | Chariots of Fire |
| Wendy Hiller | Actor | 15-Aug-1912 | 14-May-2003 | Separate Tables |
| John Hurt | Actor | 22-Jan-1940 | 27-Jan-2017 | Alien |
| Leo McKern | Actor | 16-Mar-1920 | 23-Jul-2002 | Travelling North, Rumpole of the Bailey |
| Corin Redgrave | Actor | 16-Jul-1939 | 6-Apr-2010 | Not About Nightingales |
| Vanessa Redgrave | Actor | 30-Jan-1937 | | Julia |
| Paul Scofield | Actor | 21-Jan-1922 | 19-Mar-2008 | A Man For All Seaons |
| Robert Shaw | Actor | 9-Aug-1927 | 28-Aug-1978 | Quint in Jaws |
| Orson Welles | Actor | 6-May-1915 | 10-Oct-1985 | Citizen Kane |
| Susannah York | Actor | 9-Jan-1941 | 14-Jan-2011 | They Shoot Horses, Don't They? |
CAST
Starring
Wendy Hiller
... Alice
Leo McKern
... Cromwell
Robert Shaw
... Henry VIII
Orson Welles
... Cardinal Wolsey
Susannah York
... Margaret
and
Paul Scofield
... Thomas More
Also Starring
Nigel Davenport
... Duke of Norfolk
John Hurt
... Rich
Corin Redgrave
... Roper
With
Colin Blakely
... Matthew
Cyril Luckham
... Archbishop Cranmer
Jack Gwillim
... Chief Justice
Thomas Heathcote
... Boatman
Yootha Joyce
... Averil Machin
Anthony Nicholls
... King's Representative
John Nettleton
... Jailer
Eira Heath
... Matthew's Wife
Molly Urquhart
... Maid
Paul Hardwick
... Courtier
Michael Latimer
... Norfolk's Aide
Philip Brack
... Captain of Guard
Martin Boddey
... Governor of Tower
Eric Mason
... Executioner
Matt Zimmerman
... Messenger
and
Vanessa Redgrave
... Anne Boleyn
REVIEWS
Review by Steve Chase (posted on 21-Jan-2008)
Over the years I've come to realize how much this film is just as timely today as it was in 1966. Set in England during the reign of Henry VIII it is the story of a principled man, Sir Thomas Moore, and the conflicts he deals with when the King wants to declare new rules on divorce. The King needs a son and his present wife can't deliver. Admired, respected and in need of his support, the King visits Thomas Moore and asks him face to face for his 'loyalty as a subject'. Upon reflection and careful review of Church law Moore can not support the wishes of the King. False charges are then brought against Moore. He defends himself most eloquently in public court, but, just like some cases in our own courts today, the fate of the "guilty" is established before the trial. There is no honest justice. Just 'selective enforcement' and those that get selected like Thomas Moore, for expample, get beheaded or receive some other punishment. What makes the movie four star quality is the brilliant acting of Paul Scofield in the role of Thomas Moore. Highly educated, competent in both Church law and the Kings law, disciplined, polished, and fair minded, Moore can truly be described as a "Man For All Seasons".... Strongly recommend viewing.
---
Do you know something we don't?
Submit a correction or make a comment about this profile

Copyright ©2019 Soylent Communications