The American Friend (24-Jun-1977)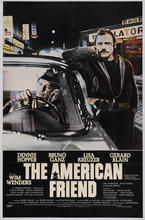 Original Title: Der Amerikanische Freund
Director: Wim Wenders
Writer: Wim Wenders
From novel: Ripley's Game by Patricia Highsmith
Keywords: Thriller, Art Forgery




Criminal dandy Tom Ripley offers Hamburg picture framer Jonathan Zimmerman, suffering a fatal blood disease and with little time remaining, total financial security to his family if he murders a mobster. Mind you just a short time ago, Zimmerman, who met Ripley at an art auction, refused to shake the other man's hand. Outstanding performance by Bruno Ganz; Hopper is quite a different Ripley than Matt Damon.
| Name | Occupation | Birth | Death | Known for |
| --- | --- | --- | --- | --- |
| Samuel Fuller | Film Director | 12-Aug-1912 | 30-Oct-1997 | Pickup on South Street |
| Bruno Ganz | Actor | 22-Mar-1941 | 16-Feb-2019 | Downfall |
| Dennis Hopper | Actor | 17-May-1936 | 29-May-2010 | Apocalypse Now |
| Nicholas Ray | Film Director | 7-Aug-1911 | 16-Jun-1979 | Rebel Without a Cause |
REVIEWS
Review by Rick Puller (posted on 3-Sep-2007)
A delightfully dark buddy flick, made long before buddy flicks fell in such disfavor. Dennis Hopper is the "cool" american friend. He's edgy, and charming as only he can be in a singular sociopathic manner that is his alone and yet undeniably american. He is an eminently likeable cowboy creep. Bruno Ganz is his reluctant partner in crime and has a european masculine grace that lends itself perfectly to Hopper's dangerous ambiguity. The movie is long, dreary, yet beautifully filmed, and fun to watch.
---
Do you know something we don't?
Submit a correction or make a comment about this profile

Copyright ©2019 Soylent Communications