A Tree Grows in Brooklyn (28-Feb-1945)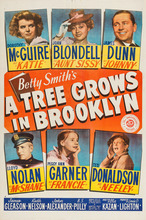 Director: Elia Kazan
Writers: Tess Slesinger; Frank Davis
From novel: A Tree Grows in Brooklyn by Betty Smith
Music: Alfred Newman
Producer: Louis D. Lighton
Keywords: Drama, New York, Coming of Age, Brooklyn




A bright young girl comes of age in Brooklyn as her family struggles to make ends meet. Francie's father wants her to pursue her dreams; her mother wants her to drop out of school and help the family. Peggy Ann Garner received seventh billing but carries the film, receiving a Juvenile Oscar for her work; James Dunn received an Oscar for Best Supporting Actor, and the film was additionally nominated for Best Screenplay.
| Name | Occupation | Birth | Death | Known for |
| --- | --- | --- | --- | --- |
| Joan Blondell | Actor | 30-Aug-1906 | 25-Dec-1979 | A Tree Grows in Brooklyn |
| James Dunn | Actor | 2-Nov-1901 | 1-Sep-1967 | A Tree Grows in Brooklyn |
| Peggy Ann Garner | Actor | 3-Feb-1932 | 16-Oct-1984 | A Tree Grows in Brooklyn |
| James Gleason | Actor | 23-May-1882 | 12-Apr-1959 | Here Comes Mr. Jordan |
| Dorothy McGuire | Actor | 14-Jun-1916 | 13-Sep-2001 | A Summer Place |
| Ruth Nelson | Actor | 2-Aug-1905 | 12-Sep-1992 | Awakenings |
| Lloyd Nolan | Actor | 11-Aug-1902 | 27-Sep-1985 | Dr. Chegley on Julia |
CAST
REVIEWS
Review by anonymous (posted on 11-Feb-2007)
The movie was wonderful. It's about a poor family in Brooklyn, that is poor because the father is an alcoholic, and can't hold a job. He is always guiltridden because he loves his sweet wife and sensitive young daughter, who escapes from her wretched existance with books and fantasy, (and he just can't give them a better life). The daughter's birthday arrives and he has no money for a gift. On the evening of her birthday he takes her by the hand and they walk a long way, and at one point he tells her to close her eyes. He then leads her further on and stops, and tells her to open her eyes. For the first time in her life she sees a TREE. She is overwhelmed by the first real tree that she has ever seen, and says, "MY CUP RUNNITH OVER". If you see the movie you will never forget it. The daughter was played by Peggy Ann Garner, who received a special OSCAR for her performance. In the late forty's I went to University High School (West Los Angeles) with Peggy Ann, She was one of the sweetest, nicest, most thoughtful people I've ever known. She originated the role of Cherie in the stage play "Bus Stop". I saw her and her new husband Albert Salmi in the play at the El Capitan Theater, in Hollywood. She made it a smash hit. It was expected that Peggy Ann would play Cherie in the movie, but they decided to give the role to a newcomer, Marilyn Monroe.
---
Do you know something we don't?
Submit a correction or make a comment about this profile

Copyright ©2019 Soylent Communications