McLintock! (23-Feb-1963)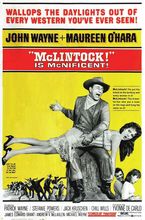 Director: Andrew V. McLaglen
Writer: James Edward Grant
Music by: Frank De Vol
Producer: Michael Wayne
Keywords: Western/Comedy




Wealthy cattle baron "G.W." McLintock's estranged wife of two years returns wanting divorce and custody of their daughter, in this loose western version of Shakespeare's Taming of the Shrew. While it has a thin plot and numerous weak subplots, the film spotlights John Wayne's underappreciated flair for comedy. Excellent mud fight.
CAST
REVIEWS
Review by anonymous (posted on 29-Aug-2005)
This is a movie that succeeds because it tells a good story with a stellar cast. It is a classic clash of cultures flik set in the west in the late 1800s/early 1900s. John Wayne is an honest but cantankerous rancher who, in his younger days, fought nature and Native Americans to secure his land but of late has taken to excess of drink to fill the void left by his estranged wife, played by the lovely Maureen O'Hara. His wife is the love interest of the proper and pompous Governor of the territory. McClintock's daughter (a young and fetching Stephanie Powers) is just back from her first year of college. She is a spoiled product of doting parents and bording schools and is susceptible to the charms of the Governor's son, a Yale boy, played with enthusiasm by Jerry van Dyke (Luther on "Coach."). Yvonne DeCarlo and John Wayne's son in real life, Patrick Wayne, play farmer mother and son looking to start a new life in the west. Confrontation and chaos ensue when the farmer's son takes an interest in McClintock's daughter, McClintock's wife becomes jealous of the mother, the farmers try to lynch a wrongly-accused Indian, and the Indian chiefs McClintock respects return from imprisonment in the east to the reservation. There are enough classic scenes and chuckles in this ditty to warrant the occasional re-viewing. This is also the beginning of the Duke's shift to a looser acting style, which is fully developed in "True Grit." Unlike the "Quiet Man," which won the Academy Award for best picture in 1952, this movie garnered no awards, but it is a diamond in the rough worth the ~ 2 hrs run time.
---
Review by John A. Kim (posted on 20-May-2005)
This John Wayne movie second to the "Quiet Man", was one of the funniest, but sincere movies, that I have ever seen. The Duke, was a funny, but quite sincere during the indian scenes and being an old friend of the indian chief's. All of the characters in the movie played their parts brilliantly.
---
Do you know something we don't?
Submit a correction or make a comment about this profile

Copyright ©2019 Soylent Communications