Jo Jo Dancer, Your Life Is Calling (2-May-1986)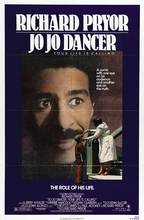 Director: Richard Pryor
Writers: Paul Mooney; Richard Pryor; Rocco Urbisci
Keywords: Drama, Biography, Cocaine




Autobiographical film starring Richard Pryor, who portrays himself as Jo-Jo Dancer, a dope-addled comedian. In intensive care at a hospital burn unit, Jo-Jo revisits moments in his life, trying to figure out where it all went wrong. Lovely sets and cinematography frame the early part of the film, as the comic leaves home to make it in the big city, but the second and third acts suffer from an unfocused plot, interminable montages, and the shallow characterizations of Jo-Jo's ex-wives.
REVIEWS
Review by anonymous (posted on 23-Jul-2006)
People might say I am a little prejudice when I give them my thoughts about this movie. That is only because my mother, Anne Righi, played a bit part in the movie as a "Madame" in a scene (there really are no small parts) where she is standing on the front porch of a house of "ill repute" motioning for the men to come over on such a warm inviting day and as she is waving, she speaks....with the sound of her beautiful voice and enticing red hair blowing in the wind..you can only capture a glimpse of what this beauty is all about. Not only that, but, Richard Pryor was a truly dear friend of my mother and she invited him to our house in Peoria,whereby, she cooked him the finest homecooked meal you could ever want or desire, for among her many talents was the art of cooking besides making you feel welcomed in her home. This movie means a great deal to me and my family, as we had a closeness to who Richard Pryor was and what he was all about. In the true sense of the word "acting" there can be no other like Richard Pryor and he proves it once again in this movie. It was a saddened day for all when he passed...but...forever..he will be in our hearts and in this film and many more he created. Enjoy!
---
Do you know something we don't?
Submit a correction or make a comment about this profile

Copyright ©2019 Soylent Communications