Murder, He Says (23-Jun-1945)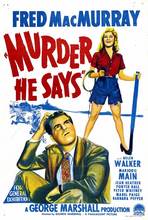 Director: George E. Marshall
Writers: Lou Breslow; Jack Moffitt
Keywords: Dark Comedy, Treasure Hunt




Fred MacMurray is a pollster looking for a disappeared colleague, last known whereabouts headed towards the Fleagle residence. He doesn't find the missing pollster but is drawn into a hillbilly battle over $70,000 loot buried somewhere, fruit of a old robbery. G randma knows where it is, but she hasn't been talking. Very funny dark slapstick, with MacMurray in a role originally intended for Bob Hope.
| Name | Occupation | Birth | Death | Known for |
| --- | --- | --- | --- | --- |
| Porter Hall | Actor | 19-Sep-1888 | 6-Oct-1953 | Going My Way |
| Fred MacMurray | Actor | 30-Aug-1908 | 6-Nov-1991 | The Absent-Minded Professor |
| Marjorie Main | Actor | 24-Feb-1890 | 10-Apr-1975 | Ma and Pa Kettle |
| Helen Walker | Actor | 17-Jul-1920 | 10-Mar-1968 | Call Northside 777 |
CAST
REVIEWS
Review by anonymous (posted on 20-Apr-2005)
This movie is a real hoot! If all you know of Fred MacMurray is My Three Sons, or at least Double Indemnity, get ready to "laff yer ass" off. The basement scene where Fred is mistaken for one of the dim-witted twins is priceless, and you'll be humming "Honors Flysiss" all evening (and will be reminded whenever you listen to the opening theme to All Things Considered on NPR). Great cast, too, with Marjorie Main, Porter Hall and Helen Walker (pre Nightmare Alley). My mother turned me on to this movie maybe 35 years ago, and I'm forever grateful.
---
Do you know something we don't?
Submit a correction or make a comment about this profile

Copyright ©2019 Soylent Communications