Road House (19-May-1989)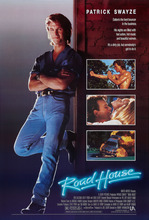 Director: Rowdy Herrington
Writers: David Lee Henry; Hilary Henkin
Musical Score by: Michael Kamen
Producer: Joel Silver
Keywords: Action/Adventure, Martial Arts




Patrick Swayze is Dalton, a bouncer with a NYU philosophy degree hired to clean up a bar that has become far too rowdy. Ben Gazzara is Brad Wesley, a Boss Hogg-type who demands total control. Action B-movie has a script blessed with a wealth of one-liners and comebacks; the sheer guilty pleasure of Road House overcomes any flaws it may possess.
CAST
Patrick Swayze
... Dalton
Ben Gazzara
... Brad Wesley
Kelly Lynch
... Doc
Kevin Tighe
... Tilghman
Keith David
... Ernie Bass
Kathleen Wilhoite
... Carrie
Sunshine Parker
... Emmet
Red West
... Red Webster
Julie Michaels
... Denise
and
Sam Elliott
... Wade Garrett
Marshall Teague
... Jimmy
Jeff Healey
... Cody
John Doe
... Pat McGurn
Travis McKenna
... Jack
Roger Hewlett
... Younger
Kurt James Stefka
... Hank
Gary Hudson
... Steve
Terry Funk
... Morgan
Michael Rider
... O'Connor
John Young
... Tinker
Anthony DeLongis
... Ketchum
Joe Unger
... Karpis
Tiny Ron
... Mountain
Sheila Caan
... Judy
Jon Paul Jones
... Stroudenmire
Lauri Crossman
... Stella
Ed DeFusco
... Oscar
Joseph Rockman
... Cody's Band
Thomas Stephen
... Cody's Band
Humberto Larriva
... Cruzados
Anthony Marsico
... Cruzados
Gonzalo Quintana III
... Cruzados
Marshall Rohner
... Cruzados
John Oldach
... Bandstand Tough Guy
Joey Plewa
... Bandstand Tough Guy
Susan Lentini
... Bandstand Babe
Patricia Tallman
... Bandstand Babe
Mike Fisher
... Bandstand Bouncer
Bob A. Jennings
... Bandstand Bouncer
Dawn Ciccone
... Steve's Girl
Julie Royer
... Steve's Girl
Frank Noon
... Barfly
Christopher Collins
... Sharing Husband
Cheryl Baker
... Well-Endowed Wife
Michael Wise
... Gawker
Charles Hawke
... Heckler
Tom Finnegan
... Chief of Police
Christine Anderson
... Party Girl
Lisa Axelrod
... Party Girl
Debra Chase
... Party Girl
Lisa Westman
... Party Girl
Kymberly Herrin
... Party Girl
Kym Malin
... Party Girl
Heidi Paine
... Party Girl
Jacklyn Palmer
... Party Girl
Marta Rinchusiuso
... Party Girl
Meg Thayer
... Party Girl
Laura Albert
... Strip Joint Girl
Christina Veronica
... Strip Joint Girl
Jasae
... Strip Joint Girl
Michele Burger
... Strip Joint Girl
Pamela Jackson
... Strip Joint Girl
Daryl Sandy Marsh
... Strip Joint Bartender
Laura Lee Kasten
... Nurse
Bill Dunnam
... Car Salesman
Terrance Scott
... Loudmouth
Sylvia Baker
... Table Dancer
Dennis Ott
... Bar Character
Ancel Cook
... Grillman
Chino "Fats" Williams
... Derelict
REVIEWS
Review by anonymous (posted on 10-May-2006)
If you are a young blue collar american male, then "Road House" is your "Ben Hur." It tells the story of an expert "cooler" (a security manager at a bar) named Dalton who is paid by a nightclub owner in a small Southern town to help him clean up his roadhouse bar, named the Double Deuce. People who are hypercritical of action films will say that the premise is dumb and the characters are rednecks. This movie is not "Being John Malcovich" or "Fight Club" and does not presume to be. It won't make you think very hard and there aren't any strange plot twists. But this film is entertaining and has strong points. For one, Dalton (played by "Dirty Dancer" Patrick Swayze) comes from a mysterious background. The film makers don't try to build him him up as an ex-special forces commando or rogue ex-cop. He is shown exercising one morning by doing Yang style Tai Chi in a horse pasture and one of the other bouncers at the Double Deuce reveals that Dalton once killed a man by ripping his throat out. In one climatic scene, Dalton demonstrates this technique, a Kung Fu "eagle claw" where the fingers of his right hand hook into the soft tissues around a man's trachea which is torn sideways, killing him. Still, Dalton isn't superhuman. He's fast but gets punched and cut and, occasionally, even shot. And he isn't inhumanly strong and has to hit people repeatedly to put them down. Sam Elliot plays his friend Wade, an old burned out bouncer who taught Dalton the ins and outs of the profession. Jeff Healey is on-hand playing a terrible bar musician (what a stretch). There are several entertaining fights where local tough guys employed by a the town bully, a crime lord played by Ben Gazzara,pit their drug and alcohol induced fury against Daltons skill and physical dicipline. Swayze has several stupid and annoying lines in the film, like bragging "pain don't hurt", but it adds to the charm. You can see that once the trouble with the local bad guys starts escalating beyond the confines of the bar, Dalton seems out of his element: he's a bouncer not a hero. Kelly Lynch plays Dalton's boring pacifist girlfriend, a local doctor who doesn't believe in killing even in self-defense. For all Dalton's neo-buddhist, existential nonsense, this is still a movie about a bouncer beating the crap out of people. And on those merits, it is entertaining. It definately must be watched at least once in a man's lifetime and discussed with other men. Most women I know despise this movie. This movie was not made for them. Enjoy.
---
Do you know something we don't?
Submit a correction or make a comment about this profile

Copyright ©2019 Soylent Communications