The Heart is a Lonely Hunter (31-Jul-1968)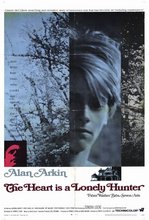 Director: Robert Ellis Miller
Writer: Thomas C. Ryan
From novel by: Carson McCullers
Music by: David Grusin
Producers: Thomas C. Ryan; Marc Merson




A deaf mute takes a room in a boarding house, to be closer to an institutionalized friend; among his new friends are his landlord's deaf mute daughter. Alan Arkin gives an exceptional, understated performance, though the film is still a pale shadow of the McCullers' novel. Received Oscar nominations for Best Actor and Best Supporting Actress. Since the film was budgeted for $1M, it was set in the present instead of the 1930s; filmed in Selma, Alabama.
CAST
Alan Arkin
... Singer
Co-Starring
Laurinda Barrett
... Mrs. Kelly
Stacy Keach
... Blount
Chuck McCann
... Antonapoulos
Biff McGuire
... Mr. Kelly
Percy Rodriguez
... Dr. Copeland
Cicely Tyson
... Portia
Featuring
Jackie Marlowe
... Bubber
Johnny Popwell
... Willie
Wayne Smith
... Harry
Peter Mamakos
... Spirmonedes
John O'Leary
... Beaudine
Hubert Harper
... Brannon
Sherri Vise
... Delores
And Introducing
Sondra Locke
... Mick
Robbie Barnes
... Ralph
Richard Fingar
... Sucker
Gavin Paulin
... Spareribs
Horace Oates, Jr.
... Himself
Don Swafford
... Dr. Gordon
Anna Lee Carroll
... Nurse Bradford
Ronald A. Riner
... Deputy Sheriff Ivor
REVIEWS
Review by Firegal (posted on 25-Feb-2008)
I have waited almost 40 years to see this MOST MOVING FILM again. I had watched it in high school, they had taken us to the auditorium once and awhile and we saw what were considered highly regarded literary stories made into films. I never forgot this film. It didn't even seem dated to me when I watched it today, Feb. 25, 2008. Sandra Locke has obviously not had the best career the rest of her life, but she was up for an acadamy award for her part in this movie, and I think she should have won it. I think the thing that draws me most to the story is it doesn't preach, or give answers about life, it just shows us the inside lives of those around us and the things we don't know about them. You may not like this movie, but I think you owe yourself the treat of watching it, because I believe you will thouroughly enjoy the story, and the actors. Alan Arkan also did a fabulous job as a deaf mute. His relationship to Sandra's character is so superficial on one hand, and yet we find so deeply intertwined at the end.
---
Review by Steve Sedberry (posted on 27-Feb-2009)
I read Carson McCullers obit (October 1967?) in the Birmingham News and immediately began reading her books. I'm not sure how she would have felt about this posthumous production but I enjoyed it when it first arrived at theaters and again when viewing the DVD with a friend last night. Arkin and Locke both convincingly portrayed their characters and seeing the Deep South movie sets was a real enjoyment. (Jefferson City, GA was evidently actually Selma, Alabama.) I didn't realize that my former World Lit and Latin/Greek roots professor (UAB 1968-1971) portrayed the bartender Brannon. I must have seen the movie before I knew him. Hubert Harper (Ph.D.) was a real character in and out of class. He was definitely one of the best professors with whom I ever studied (I'm sure he had fun playing the bartender, however). One problem I have with the movie is the same problem I have with all movies: they glorify God's creation rather than God Himself. No matter how entertaining and convincing, most, if not all, films celebrate the craftiness of humankind rather than the abundant provision of God. This is tragic. It's no wonder that our worshipping the idols of man in all of his endeavors has brought tragedy upon us throughout human history. When will we awaken to God Himself?
---
Do you know something we don't?
Submit a correction or make a comment about this profile

Copyright ©2019 Soylent Communications