Chappie (4-Mar-2015)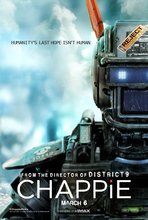 Director: Neill Blomkamp
Writers: Neill Blomkamp; Terri Tatchell




South African gangsters and an intrepid inventor fight over the humanity of a self-aware crime-fighting robot.
ABSTRACT
Deon Wilson, gifted inventor and employee of weapons conglomerate Tetravaal, creates a humanoid robot for Johannesburg's police force; the project is a runaway success, drawing the ire of co-worker and rival Vincent Moore. Obsessed with the idea of developing a consciousness for one of his robots, named "Chappie", Deon goes against his boss's orders to pursue his goal, creating unforeseen conflict when rapping gangsters kidnap Chappie and attempt to bend him to their will while Vincent tries to exploit the situation for his own personal gain.
Serviceable as an extended Die Antwoord music video and mediocre as an actual movie, Chappie is another unfortunate misfire for District 9 director Neill Blomkamp.
REVIEWS
Do you know something we don't?
Submit a correction or make a comment about this profile

Copyright ©2019 Soylent Communications