The 40 Year-Old Virgin (11-Aug-2005)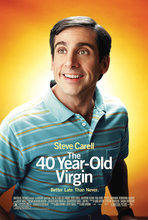 Director: Judd Apatow
Writers: Judd Apatow; Steve Carell
Keywords: Comedy




Steve Carell is Andy Stitzer, sales clerk at an electronics store, and connoisseur collector of vintage action figures. His friends try various absurd tactics to get him laid, none particularly successful. Andy enters into a relationship with Trish, who works across the street, but somehow they avoid sex. Good slapstick comedy, vulgar humor; first starring role for Carell. AFI Movie of the Year for 2006.
[watch trailer]
REVIEWS
Review by rosieman (posted on 13-Oct-2005)
Absolutely great. I loved this movie, not just for its corny jokes and tremendous predictability, but for the fact that it was never really predictable (hence the Age of Aquarius clip) and that it managed to avoid being corny even though it had the potential to do so. It was gentle, yet harsh, beautiful and wonderful. Steve Carell was simply fabulous and he managed to capture something that many actors would not. He gave it the innocence required but also the reality that the role called for. The romance was no fluid or easy or typical of every other Hollywood comedy -- it was lovely and entertaining and had me in a great mood for the rest of the night. Definitely in my top 2, with Anchorman.
---
Do you know something we don't?
Submit a correction or make a comment about this profile

Copyright ©2019 Soylent Communications