Proof (5-Sep-2005)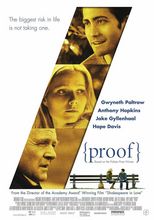 Director: John Madden
Writers: David Auburn; Rebecca Miller
Keywords: Drama, Mathematics




A woman copes with the death of her brilliant, yet tortured, mathematician father.
ABSTRACT
Catherine, daughter of recently-deceased tortured genius mathematician Robert, struggles to come to terms with her father's departure as she faces the possibility of inheriting his debilitating mental illness. Former student/assistant Hal strives to help Catherine manage her father's affairs and search through his notebooks as sister Claire jumps into the picture to tie up loose ends.
REVIEWS
Review by samiam (posted on 28-Jun-2007)
What a splendid accolade for all of the actors in this film. The storyline was riviting, the acting superb and Anthony Hopkins, a joy as always to watch, portrayed his character with such finesse. Gwenyth Paltrow did a great job portraying Kathryn, the daughter of a genius-gone-crazy father who struggled with her own genius and the possibility of inheriting her father's madness. Enter Hal, the nerdy math geek, very convincingly portrayed by Jake Gyllenhaal, who leads her out of the confusion through patience, almost losing everything due to his mathematician-based thought processes...everything must be proven. I especially related to the sister relationship...from the moment Kathryn's sister enters. Both actors related to each other as a true sister relationship is--outwarding loving and respectful, but deeply guarded and secretive. A must-see for all Gwenyth fans. Enjoy.
---
Do you know something we don't?
Submit a correction or make a comment about this profile

Copyright ©2019 Soylent Communications