Diabolique (29-Jan-1955)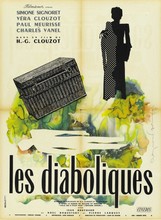 Original Title: Les diaboliques
Director: Henri-Georges Clouzot
Writers: Henri-Georges Clouzot; Jérôme Geronimi; René Masson; Frédéric Grendel
From novel: Celle qui n'était plus by Pierre Boileau and Thomas Narcejac
Music by: Georges van Parys
Producer: Henri-Georges Clouzot
Keywords: Crime, Film Noir, France




The cruel headmaster of a second-rate boarding school is murdered by his wife and mistress, both of whom teach at the school. Then the corpse disappears; is he still alive? Taut psychological thriller. Hitchcock tried to obtain the directorship of this film, but was late by 30 minutes. Won a special Edgar award for Best Foreign Film. Best to avoid entirely the highly inferior remake with Sharon Stone, Diabolique (1996).
| Name | Occupation | Birth | Death | Known for |
| --- | --- | --- | --- | --- |
| Michel Serrault | Actor | 24-Jan-1928 | 29-Jul-2007 | La cage aux folles |
| Simone Signoret | Actor | 25-Mar-1921 | 30-Sep-1985 | Ship of Fools |
CAST
Simone Signoret
... Nicole Horner
Vera Clouzot
... Christina Delassalle
Paul Meurisse
... Michel Delassalle
et
Charles Vanel
... Insp. Fichet
avec
Jean Brochard
... Plantiveau, Gardener
Thérèse Dorny
... Mme. Herboux
Michel Serrault
... M. Raymond, Supervisor
Georges Chamarat
... Dr. Loisy
Robert Dalban
... Mechanic
Camille Guerini
... Photographer
Jacques Hilling
... Morgue Employee
Jean Lefebvre
... Soldier
Aminda Montserrat
... Mme. Plantiveau
Jean Temerson
... Bellboy
Jacques Varennes
... Prof. Bridoux
Georges Poujouly
... Soudieu
Yves-Marie Maurin
... Moinet, Schoolboy
et
Noël Roquevert
... M. Herboux
Pierre Larquey
... M. Drain, Schoolmaster
REVIEWS
Review by charliebear (Old Lion) (posted on 14-May-2009)
At the ending of the film I simply sat in my seat and gazed at the blank screen realizing I had truly been had. It was a terrific film with a first rate cast and director. It is one of the films I shall never forget.
---
Do you know something we don't?
Submit a correction or make a comment about this profile

Copyright ©2019 Soylent Communications