Shrek the Third (17-May-2007)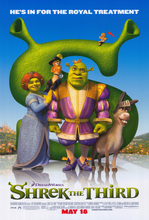 Directors: Raman Hui; Chris Miller
Writers: Andrew Adamson; Howard Gould; Jeffrey Price; Peter S. Seaman; J. David Stem; David N. Weiss; Jon Zack
From novel: Shrek! by William Steig (juvenile storybook)
Keywords: Fantasy




Third entry in the Shrek franchise follows the continued adventures of a cynical green ogre and Far, Far Away royalty.
ABSTRACT
Second sequel to Shrek (2001). Princess Fiona's father, the reigning king of Far, Far Away, dies unexpectedly, placing a reluctant Shrek in line as the evident successor to his throne. Uneasy with the all-too-real prospect of becoming King, Shrek heads out on yet another grand journey with old friends Donkey and Puss in Boots, searching for rightful heir Artie in another fairytale kingdom just as the ever-scheming Prince Charming plans a coup to take the royal house for himself.
REVIEWS
Review by Katherine (posted on 1-Jul-2007)
Quite a good film, but definitely not as good as the previous two. There was a huge anti-climax and I felt that the ending was very disappointing. However, there were a lot of funny bits and a clever script. The characters were as good as ever, with a few extras introduced.
---
Do you know something we don't?
Submit a correction or make a comment about this profile

Copyright ©2019 Soylent Communications