El Dorado (17-Dec-1966)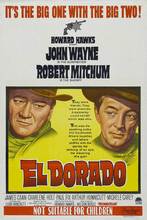 Director: Howard Hawks
Writer: Leigh Brackett
From novel: The Stars in Their Courses by Harry Brown
Music Scored and Conducted by: Nelson Riddle
Producer: Howard Hawks
Keywords: Western




John Wayne is Cole Thornton, hired gun who with his old friend Sheriff J. P. Hara help a rancher battle a greedy landowner and his cronies over water rights. Good crisp western which is the only pairing of Wayne with Robert Mitchum, who show great chemistry together. Some scenes and plot similarities with Rio Bravo (1959), also directed by Howard Hawks.
[watch trailer]
CAST
REVIEWS
Review by anonymous (posted on 25-Aug-2006)
I loved this movie. I have watched it at least a dozen times. The poem (originally from Poe I believe) that "Mississippi" recites through out the movie is what intrigued me after I "grew up" and watched the movie as an adult. Of course, as a preteen seeing it for the first time in probably '67-'68, I thought "Mississippi" was hot. John Wayne has always been a favorite. Robert Mitchum's portrayal of a drunken sheriff was priceless. I especially enjoyed the scene where he's in the bath tub holding his finger in the bullet hole in his leg.
---
Review by DON ANDERSON (posted on 23-Jun-2005)
My first impression of this is as a decent copy of Rio Bravo, again featuring The Duke with non-western and young actors. At least it's better than Rio Lobo (gag).
Duke is a gun-for-hire, Cole Thornton, hired to scare off some squatters by a wealthy rancher, Bart Jason, played nastily by Ed Asner. Along the way he meets Christopher George, Nelse McCloud, a rival gunslinger, and James Caan, 'Mississippi', a kid trying to avenge a friend's death. Caan's character uses a knife instead of a gun, because it is found, he can't hit the side of a barn with a gun, to the amusement of Duke. Robert Mitchum is there as the alcoholic sheriff, JP Harrah, who, in the course of helping the squatters, Cole and Mississippi also manage to cure of alcoholism, somewhat like Dean Martin, "Dude", in Rio Bravo.
Of course, good wins out over evil, all the bad people die, plus one squatter, and we all learn a lesson about revenge. It's a good western, as opposed to Rio Bravo, which I, of course, would rate as excellent.
FYI: James Caan carries the obligitory nickname in the movie, 'Mississippi'. John Wayne was famous for giving characters nicknames because he couldn't remember their scripted names. In Rio Bravo, Ricky Nelson was "Colorado". In the movie Hatari, everybody had one, "The Indian", "Pockets", "Dallas", "Chips." Just another reason for me to be a John Wayne fan.
---
Do you know something we don't?
Submit a correction or make a comment about this profile

Copyright ©2019 Soylent Communications