Going My Way (3-May-1944)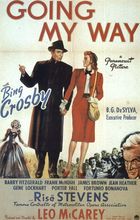 Director: Leo McCarey
Writers: Frank Butler; Frank Cavett; Leo McCarey
Producer: Leo McCarey
Keywords: Musical




The newly-ordained Father Chuck O'Malley is assigned to the diminishing Roman Catholic parish of St. Dominic's, headed by the ageing and curmudgeonly Father Fitzgibbon. Won Oscars for Best Picture, Best Actor and Supporting Actor, Best Director, Best Original Story, and Best Original Song, "Swinging on a Star", and additional nominations for Best Actor, Best Cinematography and Best Editing. For the only time, Barry Fitzgerald was simultaneously nominated for Best Actor and Best Supporting Actor for playing the same role; rules were modified to prevent this from recurring. Entered 2004 into the National Film Registry.
[watch trailer]
| Name | Occupation | Birth | Death | Known for |
| --- | --- | --- | --- | --- |
| Fortunio Bonanova | Singer | 13-Jan-1895 | 2-Apr-1969 | Citizen Kane |
| Bing Crosby | Singer | 3-May-1903 | 14-Oct-1977 | White Christmas |
| Barry Fitzgerald | Actor | 10-Mar-1888 | 14-Jan-1961 | Going My Way |
| Porter Hall | Actor | 19-Sep-1888 | 6-Oct-1953 | Going My Way |
| Gene Lockhart | Actor | 18-Jul-1891 | 31-Mar-1957 | Algiers |
| Frank McHugh | Actor | 23-May-1898 | 11-Sep-1981 | The Roaring Twenties |
| Risë Stevens | Singer | 11-Jun-1913 | 20-Mar-2013 | Mezzo-Soprano at the Metropolitan Opera |
CAST
REVIEWS
Review by anonymous (posted on 22-Oct-2006)
This movie is the perfect example of what good, wholesome entertainment can be compared to the movies of today with their gore, violence, pornography....in a word "TRASH". It's as if what writing talent there used to be in Hollywood has now dried up and they have to rely on sensationalism. Imagination has died along with some of the best actors/actresses we have known. Movies like "Going My Way" had talented actors such as Bing Crosby, Rise Stevens, Gene Lockhart and it had a great story line to it as well. I never tire of watching this movie. It leaves you with a good feeling and wanting more. They didn't have to rely on foul language and nudity to get your attention. My husband and I haven't been to a movie theatre in years and have no intention of going until Hollywood cleans up its act! One question: In this movie at the end when Barry Fitzgerald's mother comes in (a tear jerker scene), was that really his mother or an actress? I've been wondering this for years!
---
Do you know something we don't?
Submit a correction or make a comment about this profile

Copyright ©2019 Soylent Communications