The Running Man (13-Nov-1987)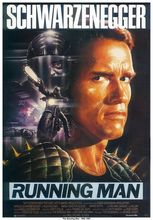 Director: Paul Michael Glaser
Writer: Steven E. de Souza
From novel: The Running Man by Stephen King (as "Richard Bachman")
Music by: Harold Faltermeyer
Producers: Tim Zinneman; George Linder
Keywords: Sci-Fi, Action/Adventure, Dystopian, Future Sport




America is in a dystopian future where the top show on television features convicts chased to their deaths, promised a pardon if they are able to escape. Schwarzenegger is a cop who unjustly ended up in prison, forced to participate in the brutal game show.
CAST
Arnold Schwarzenegger
... Ben Richards
Maria Conchita Alonso
... Amber Mendez
Yaphet Kotto
... Laughlin
Jim Brown
... Fireball
Jesse Ventura
... Captain Freedom
Erland van Lidth
... Dynamo
Marvin J. McIntyre
... Weiss
Bernard Gus Rethwisch
... Buzzsaw
Prof. Toru Tanaka
... Subzero
Mick Fleetwood
... Mic
Dweezil Zappa
... Stevie
and
Richard Dawson
... Damon Killian
Karen Leigh Hopkins
... Brenda
Sven Thorsen
... Sven
Edward Bunker
... Lenny
Bryan Kestner
... Med Tech
Anthony Penya
... Valdez
Kurt Fuller
... Tony
Kenneth Lerner
... Agent
Dey Young
... Amy
Rodger Bumpass
... Phil Hilton
Donna Hardy
... Mrs. McArdle
Lynne Stewart
... Edith Wiggins
Bill Margolin
... Leon
Anthony Brubaker
... Soldier #1
Joel Kramer
... Soldier #2
Billy Lucas
... Soldier #3
George P. Wilbur
... Lt. Saunders
Thomas Rosales, Jr.
... Chico
Sondra Holt
... Suzie Checkpoint
Daniel Celario
... Barrio Foreman #1
Mario Celario
... Barrio Foreman #2
Sidney Chankin
... Custodian
Kim Pawlik
... Newscaster
Roger Kern
... Travel Pass Guard
Barbara Lux
... Elderly Lady
Franco Columbu
... 911 Security Officer #2
Lin Shaye
... Propaganda Officer
Boyd R. Kestner
... Yuppie Yeller
Wayne Grace
... 911 Security Officer #1
Charlie Phillips
... Teen-Age Punk
Greg Lewis
... Manager Locker Room
John William James
... Barrio Bettor
Jon Cutler
... Underground Tech
Dancers
Kerry Brennan
... Dancer
Paula Brown
... Dancer
Megan Gallivan
... Dancer
Suzie Hardy
... Dancer
Debby Harris
... Dancer
Melissa Hurley
... Dancer
Marlene Lange
... Dancer
Morgan Lawley
... Dancer
Cindy Millican
... Dancer
Andrea Moen
... Dancer
Mary Ann Oedy
... Dancer
Karen Owens
... Dancer
Sharon Owens
... Dancer
Pamela Rossi
... Dancer
Mia Togo
... Dancer
REVIEWS
Review by Anonymous (posted on 8-Dec-2007)
Yaphet Kotto stole the show from Arnold with a riveting depiction of a jaded revolutionary on the edge of a broken heart. Particulary poinient and moving was the acting skill he displayed in his death scene where he proclaimed " I don't want to be the only asshole in heaven". Its difficult to put into words the affect his performance in this film had on my life.
---
Do you know something we don't?
Submit a correction or make a comment about this profile

Copyright ©2019 Soylent Communications