Tulsa (26-May-1949)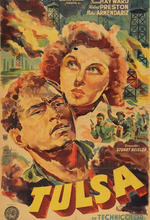 Director: Stuart Heisler
Writers: Frank Nugent; Curtis Kenyon; Richard Wormser
Music: Frank Skinner
Producer: Walter Wanger
Keywords: Drama




Set in 1920s Oklahoma, Cherokee Lansing's father, a cattle rancher, is accidentally killed at an oil well while protesting the death of his livestock after a spill; she takes revenge by entering the oil game herself, but becomes the very thing she was originally fighting against. Solid story, melodramatic and corny at times. Good role for Susan Hayward. Received an Oscar nomination for Best Special Effects.
| Name | Occupation | Birth | Death | Known for |
| --- | --- | --- | --- | --- |
| Lola Albright | Actor | 20-Jul-1925 | 23-Mar-2017 | Lord Love a Duck |
| Pedro Armendáriz | Actor | 9-May-1912 | 18-Jun-1963 | From Russia with Love |
| Ed Begley, Sr. | Actor | 25-Mar-1901 | 28-Apr-1970 | Juror #10 in 12 Angry Men |
| Lloyd Gough | Actor | 21-Sep-1907 | 23-Jul-1984 | Blacklisted character actor |
| Susan Hayward | Actor | 30-Jun-1918 | 14-Mar-1975 | I Want to Live! |
| Robert Preston | Actor | 8-Jun-1918 | 21-Mar-1987 | The Music Man |
| Chill Wills | Actor | 18-Jul-1903 | 15-Dec-1978 | The Alamo |
CAST
REVIEWS
Review by Bill W. Neff (posted on 5-Aug-2008)
A very good presentation of some of Oklahoma's early history, especially the oil town/city of Tulsa. Robert Preston in one of his best roles, as an oil well engineer, was believable and quickly got the attention his character deserved. Chill Wills (Pinky) stood apart in the role of his character and did not present the usual "sidekick" performance of later films. Pedro Armendarez, although a good actor, stayed mostly in the background as his characters usually did until he gave a commanding performance in "The Conquerer" even shinning brightly over John Wayne's faux performance as Ghengis Khan. Susan Hayward, as usual, stole the whole picture as the tough competitor Chreokee Lansing. This little film deserves it's rightful place in Hollywood's history.
---
Do you know something we don't?
Submit a correction or make a comment about this profile

Copyright ©2019 Soylent Communications