The Jolson Story (10-Oct-1946)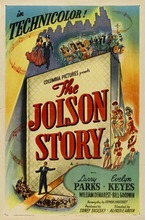 Director: Alfred E. Green
Writers: Harry Chandlee; Stephen Longstreet; Andrew Solt
Producer: Sidney Skolsky




Asa Yoelson aspires to be a singer despite the reluctance of his father. Follows Al Jolson's rise to become one of the greatest entertainers of the 20th century. Replete with rich musical numbers, making the core strength of the film; numerous liberties have been taken with the details of Jolson's life. Won Oscars for Best Sound Recording and Best Score; received additional nominations for Best Actor, Best Supporting Actor, Best Cinematography and Best Editing.
| Name | Occupation | Birth | Death | Known for |
| --- | --- | --- | --- | --- |
| Scotty Beckett | Actor | 4-Oct-1929 | 10-May-1968 | Child star train wreck |
| William Demarest | Actor | 27-Feb-1892 | 28-Dec-1983 | The Great McGinty |
| Evelyn Keyes | Actor | 20-Nov-1916 | 4-Jul-2008 | Gone with the Wind |
| Larry Parks | Actor | 13-Dec-1914 | 13-Apr-1975 | Named names before HUAC |
CAST
REVIEWS
Review by anonymous (posted on 12-May-2005)
I first saw this film in 1948. At the time I thought it was one of the best films I had ever seen, (I was only 13). It made me a lifelong Al Jolson fan. I now own the video of the film and also the sequel, Jolson Sings Again' and I have almost worn them out. For me it is still one of the best films ever made.
---
Do you know something we don't?
Submit a correction or make a comment about this profile

Copyright ©2019 Soylent Communications