On Her Majesty's Secret Service (12-Dec-1969)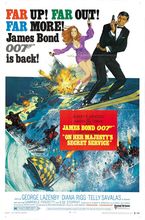 Director: Peter Hunt
Writers: Richard Maibaum; Simon Raven
From novel: On Her Majesty's Secret Service by Ian Fleming
Music Composed, Conducted, and Arranged by: John Barry
Producers: Harry Saltzman; Albert R. Broccoli
Keywords: Action/Adventure, James Bond, Virus




Under cover as a heraldic researcher, James Bond infiltrates Piz Gloria, Blofeld's allergy research laboratory situated in a lair atop the Swiss Alps. There, women are kept under strict observation in a diabolical plan to disseminate a man-made virus. Faithful to Ian Fleming's novel, this is the only appearance of George Lazenby as Bond, who does an admirable job considering he had to follow in Sean Connery's footsteps.
CAST
Starring
George Lazenby
... James Bond
Diana Rigg
... Tracy
Telly Savalas
... Blofeld
Gabriele Ferzetti
... Draco
Ilse Steppat
... Irma Bunt
With
Angela Scoular
... Ruby
Lois Maxwell
... Moneypenny
Catherine von Schell
... Nancy
George Baker
... Sir Hilary Bray
and
Bernard Lee
... "M"
and
Bernard Horsfall
... Campbell
Desmond Llewelyn
... "Q"
Yuri Borienko
... Grunther
Virginia North
... Olympe
Geoffrey Cheshire
... Toussaint
Irvin Allen
... Che Che
Terry Mountain
... Raphael
James Bree
... Gumbold
John Gay
... Hammond
The Girls
Julie Ege
... The Scandinavian
Mona Chong
... Chinese
Sylvana Henriques
... Jamaican
Dani Sheridan
... American
Joanna Lumley
... English
Zara
... Indian
Anoushka Hempel
... Australian
Ingrit Back
... German
Helena Ronee
... Israeli
Jenny Hanley
... Irish
REVIEWS
Review by anonymous (posted on 1-May-2006)
I have loved this James Bond movie since it was first shown in 1969. It was panned for a long time probably as a "bad" entry, because Sean Connery was not James Bond. However, this James Bond entry is among the best in my opinion. This is the only time we see James Bond truly in love (except for maybe The Spy Who Loved Me and his affection for Jinx). This is the only time he was married. This movie was not about gadgets, extraordinary hype shots, but a true love story. We see Bond a bit more vunerable than usual. The scenery is extraordinary, she ski shots exceptional. I love the score as well. Michael N. Washington
---
Review by Baganda (posted on 10-Oct-2007)
Wonderful film. The man (Sean Connery) is so handsome and walks handsomely. My first time to see this movie was in 1979. In 1973, I had read a book about this film. When I saw him in action, I could not take my eyes off the actors themselves. The only sad thing is the newlywed getting shot in the forehead (though this was a movie) but it touched me all the days of my life. Really a very thrilling one!
---
Review by Ray Tee (posted on 20-Mar-2005)
I saw this film first time on VHS in 1982. What made did this film different was the character of James Bond. In contra to both connery and more this guy was a bit sad and inadvert, carrying a mask of selfconfidence. But George Lazenby made a good performance of it. This film has its flaws, especially bad job done by those in post-production. But of some reason it captured a charisma of alpine winter,especially that part of the movie where Lazenby escapes the alpine HQ until he makes hay with Diana Rigg. I visited the location in Switzerland and it is just as stunning as in the movie..
---
Do you know something we don't?
Submit a correction or make a comment about this profile

Copyright ©2019 Soylent Communications