The Legend of Bagger Vance (29-Oct-2000)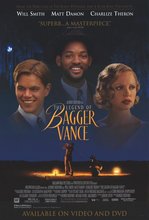 Director: Robert Redford
Writer: Jeremy Leven
From novel: The Legend of Bagger Vance: Golf and the Game of Life by Steven Pressfield
Music by: Rachel Portman
Producers: Robert Redford; Michael Nozik; Jake Eberts




A golfer struggling to revive his moribund career earns a new lease on his passion thanks to the help of a mystical caddy.
ABSTRACT
Rannulph Junuh, pride of Savannah, Georgia and a promising golfer, devolves into a tortured existence filled with drinking after a traumatic tour of duty in World War I. Years later, once-wealthy girlfriend Adele Invergordon sets out to restore her family's fortune, decimated by the Great Depression, through a series of golf tournaments, turning to Junuh as a former talent designed to generate local interest by participating. Junuh, unable to reignite his once-promising career at first, ultimately finds guidance in the form of mysterious caddy Bagger Vance, a kind soul implied to hail from a dimension other than our own who teaches Rannulph to cope with issues both on and off the course.
CAST
Will Smith
... Bagger Vance
Matt Damon
... Rannulph Junuh
Charlize Theron
... Adele Invergordon
Bruce McGill
... Walter Hagen
Joel Gretsch
... Bobby Jones
Lane Smith
... Grantland Rice
Harve Presnell
... John Invergordon
Introducing
J. Michael Moncrief
... Hardy Greaves
Peter Gerety
... Neskaloosa
Michael O'Neill
... O. B. Keeler
Thomas Jay Ryan
... Spec Hammond
Trip Hamilton
... Frank Greaves
Dermot Crowley
... Dougal McDermott
Danny Nelson
... McManus
Bob Penny
... Laidlaw
Michael McCarty
... Delahunty
Carrie Preston
... Idalyn Greaves
Turner Green
... Eugene James
Blake King
... Wilbur Charles
Andrea Powell
... Mary Jones
John Bennes
... Citizen
Jonathan Green
... Citizen
Shane Brown
... Citizen
J. Don Ferguson
... Citizen
E. Roger Mitchell
... Aaron
Leon Lamar
... Card Player
Charles Riffenberg IV
... Card Player
Cory Carbaugh
... Card Player
Charles Seabrook
... Card Player
Bilaal Salaam
... Card Player
Charles Ward
... Man #1
George Green
... Man #2
Julie Jones
... Woman #1
Valanie Lang
... Girl #1
Bernard Hocke
... News Photographer
Dan Beene
... Willy
Elliott Street
... Carter
Wilbur T. Fitzgerald
... Roy
Sonny Seiler
... Sonny the Boarder
Joseph Reidy
... Photographer
Tannis Stoops
... Anna Mae
Dearing Paige Hockman
... Hagen Girl
Erika Mounts
... Hagen Girl
Neil Gonzaga
... Bar Patron
Ronald Steppe
... Bar Patron
Hugh Baggett
... Bar Patron
Jabulani Brown
... Jones' Caddy
Vijay Patel
... Hagen's Caddy
REVIEWS
Review by anonymous (posted on 24-Jul-2005)
A golfer (Matt Damon) loses his soul in the trauma of World War I, and descends into the confusion and pain of alcohol and cynicism in the Roaring Twenties. Lost and clueless, he is redeemed by the experience of playing an exhibition golf tournament in Savannah against the two best players of his day, at the beginning of the Depression. Resisting and hurt, he nevertheless returns to a place where he once was strong with the help of a mysterious and possibly phantasmagoric caddy (Will Smith) who connects him once again to his humanity through the metaphor of golf. Not just golf, but absolute golf, golf as a measured movement with the spirit of the field, of the world, of one's own authentic stroke. A beautiful, often quiet film; a successor to Redford's other movies, such as "A River Runs Through It," it tackles a treacly subject and handles it with an artistic sincerity that cuts much of the sentimentality. The movie has eerie resumblance to "The Natural," in which Redford starred, made decades earlier. Baseball seems to haunt the film. Every other shot seems to beg to be a swing of the bat, knocking the cover off the ball. Shots are filmed with a repetitive sense of somewhat dubious poetry. Always teetering on the edge of corny, the fine script and very beautiful performances, particularly by Smith and Damon, and Bruce McGill as Walter Hagen, keep it a poetic balancing act. Ultimately, it's Redford's sense of style which suffuses the film and its pace. His sincerity, and, most of all, the deep commitment to simple story-telling which mark all his work, make this a rather lovely yarn. The romantic interest has no life in it; but Damon's discovery of his authenticity and integrity stirs something tight in the viewer. Nevertheless, there is a kind of mawkishness in such a tale which is impossible to avoid. A beautiful effort though. Enjoyable and well-intentioned.
---
Do you know something we don't?
Submit a correction or make a comment about this profile

Copyright ©2019 Soylent Communications