Skyscraper (24-Jul-1996)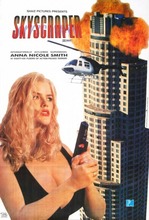 Director: Raymond Martino
Writers: John Larrabee; William Applegate, Jr.
Original Score: Jim Halfpenny
Producers: Richard Pepin; Joseph Merhi
Keywords: Action/Adventure




Anna Nicole Smith cast as a 36DD action heroine, playing a helicopter pilot trapped in a skyscraper with terrorists. With some softcore pornography thrown in. Ms. Smith is clearly reading off of cue cards in this low budget ripoff of Die Hard (1988).
| Name | Occupation | Birth | Death | Known for |
| --- | --- | --- | --- | --- |
| Anna Nicole Smith | Model | 28-Nov-1967 | 8-Feb-2007 | Addled golddigger |
| Daniel Smith | Relative | 22-Jan-1986 | 10-Sep-2006 | Son of Anna Nicole Smith |
| Michael Spound | Actor | 8-Apr-1957 | | Dave Kendall on Hotel |
CAST
Anna Nicole Smith
... Carrie Wink
starring
Richard Steinmetz
... Gordon Wink
Branko Cikatic
... Zarkov
Calvin Levels
... Nakim
Jonathan Fuller
... Jacques
Lee de Broux
... Capt. Wood
Deirdre Imershein
... Natasha
and introducing
Charles Huber
... Fairfax
Deron McBee
... Leidermeier
Vince DePalma
... Johnny Hill
Alan Brooks
... Booker
Gary Imhoff
... Dudley
Bob McCracken
... Williams
Eugene Robert Glazer
... Cranston
Seth Isler
... Clancy
Michael Chinyamurindi
... Leroy
Clay Banks
... Jimmy Dial
Robert Kerbeck
... Mather
Tina Arning
... Sarah
Paul Eiding
... John Jarrow
Michael Spound
... Pollard
Jefferson Wagner
... Det. Baker
Floyd Levine
... Chauncey
Randall England
... Simpson
Christopher Boyer
... Wayne Doleski
Daniel Smith
... Billy Boy
Kevin LaRosa
... Pilot
Wayne F. Richardson
... Pilot
REVIEWS
Do you know something we don't?
Submit a correction or make a comment about this profile

Copyright ©2019 Soylent Communications