The Bad News Bears (16-Apr-1976)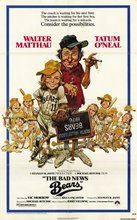 Director: Michael Ritchie
Writer: Bill Lancaster
Music Adapted and Conducted by: Jerry Fielding
Producer: Stanley R. Jaffe
Keywords: Sports Comedy, Baseball




Former minor league baseball player Morris Buttermaker, now a cigar-smoking alcoholic pool cleaner, accepts the job of coaching a San Fernando Valley little league team notably lacking in all skills baseball. Their first game lost with a humiliating 26-0 score, Buttermaker recruits a girl and a juvenile delinquent and starts taking his job seriously. Very funny film, a surprise success at the box office. Remade by Linklater as Bad News Bears (2005).
CAST
Walter Matthau
... Coach Morris Buttermaker
Tatum O'Neal
... Amanda Whurlizer
Vic Morrow
... Roy Turner
Co-Starring
Joyce Van Patten
... Cleveland
Ben Piazza
... Bob Whitewood
Jackie Earle Haley
... Kelly Leak
Alfred W. Lutter
... Ogilvie
The Bears
Chris Barnes
... Tanner Boyle
Erin Blunt
... Ahmad Abdul Rahim
Gary Lee Cavagnaro
... Engelberg
Jaime Escobedo
... Jose Agilar
Scott Firestone
... Regi Tower
George Gonzales
... Miguel Agilar
Jackie Earle Haley
... Kelly Leak
Alfred W. Lutter
... Ogilvie
Brett Marx
... Jimmy Feldman
David Pollock
... Rudi Stein
Quinn Smith
... Timmy Lupus
David Stambaugh
... Toby Whitewood
and
Brandon Cruz
... Joey Turner
Timothy Blake
... Mrs. Lupus
Bill Sorrells
... Mr. Tower
Shari Summers
... Mrs. Turner
Joe Brooks
... Umpire
George Wyner
... White Sox Manager
David Lazarus
... Yankee
Charles Matthau
... Athletic
Maurice Marks
... Announcer
REVIEWS
Review by Tom Timlin (posted on 3-Aug-2008)
No one can replace this version of Bad News Bears with a remake, which they tried to do a few years ago with Bill Bob Thorton in Walter Matthau's place as the coach.I have nothing against Mr. thorton, have seen him innother movies he has acted and/or directed produced. But Walter Matthau was a first class actor and could carry a film all by himself long before he was known in his final years as the old codger in the Grumpy Old Men films. Just watch the Taking of Pelham 1, 2, 3" made a couple of years before Bad News Bears. Walter's facial expressions at just the right time, his looks of joy and sadness, anger, confusion, sighs, are all there. No way was he really drunk to be able to do that in this film, he was just an excellent actor who cared about his craft. Tatum O'Neal - she really had something, she knew instinctively how to act as a child actor, and could have been another Jody Foster. Paper Moon, Bead News Bears, and then after that, it all fell apart. Perhaps a tortured soul in a broken family and consequentail personal problems. I am very fond of her in those films, she emotes empathy and reality in the same time. She had a rough edge to her acting which lent itself well to anything. It is too bad they would not give her a chance at some meaningful scripts after that. she was not just a child star, she was an excellent actress. The film: So much more more real than it's remake, it goes for relationships and not just gags. the cript sticks to character and story development.Every character is important to the story in this film. I think the worst part was the athletic kid on the motorcycle...he had one or two good scenes and then they spoil it withmaking a pass at an adult in a dance class-pretty stupid and contrived. no kid looks at an adult that way...adults are the enemy and the heroes in the eyes of the kid, and the only reason they through it in was for a cheap laugh. it would ha ebeen more real if he would have made a pass a Tatum"s characterand Tatum would have belted him in the mouth. Vic Morrow is also excellent, his best role since Combat TV series and his last good role before his untimely death on the set of "Twilght Zone" in ca.1980.
---
Do you know something we don't?
Submit a correction or make a comment about this profile

Copyright ©2019 Soylent Communications