Behind the Green Door (Aug-1972)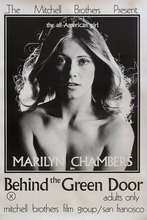 Directors: Artie Mitchell; Jim Mitchell
Music: Daniel Le Blanc
Producers: Artie Mitchell; Jim Mitchell
Keywords: Porno, Kidnapping
An innocent-looking young woman is abducted to an underground club and ravished on stage, thereby losing her 99 and 44/100th percent purity. Told as flashback. Surreal pornographic film by the Mitchell Brothers makes a stab at respectability, one of few such films to be released in mainstream cinema houses. Obvious influence to Stanley Kubrick's Eyes Wide Shut (1999).
| Name | Occupation | Birth | Death | Known for |
| --- | --- | --- | --- | --- |
| Marilyn Chambers | Pornstar | 22-Apr-1952 | 12-Apr-2009 | Behind the Green Door |
| Artie Mitchell | Film Director | 12-Dec-1945 | 27-Feb-1991 | Pornographer; shot and killed by brother Jim |
| Jim Mitchell | Film Director | 30-Nov-1943 | 12-Jul-2007 | Pornographer; shot and killed brother Artie |
REVIEWS
Review by anonymous (posted on 19-Nov-2006)
An early pornographic film. The scene showing the physical manipulation of a hypnotized young girl by several older women was the best of the porn scenes in the film. The rest of the film consisted of a feeble attempt to create a story line involving a number of characters that were never introduced to the viewer except through a number of disconnected scenes without dialog or any correlation to one another.
---
Do you know something we don't?
Submit a correction or make a comment about this profile

Copyright ©2019 Soylent Communications