Ratatouille (28-Jun-2007)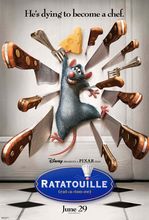 Director: Brad Bird
Writers: Brad Bird; Jim Capobianco; Emily Cook; Kathy Greenberg; Jan Pinkava
Keywords: Comedy, Rats, Cooking, France




An anthropomorphic rat with dreams of becoming a master chef forms a curious partnership with a worker at a top-flight French restaurant.
ABSTRACT
Remy, an anthropomorphic rat living in France, aspires to become a legendary chef despite obvious problems posed by his status as a rat. Placed under one of Paris' most beloved restaurants in a moment of serendipity after spending time in the metropolis's sewers, Remy seizes his unlikely opportunity to grab his long-shot dream by the horns, forming an alliance with a young worker at the famed establishment as part of his quest to reign supreme over the Fifth Republic's culinary landscape.
REVIEWS
Review by Moshe Harell (posted on 31-Jul-2007)
A wonderful, funny and wise film which entertains while teaching a lesson about human nature, relationships and prejudice. In a delicate and understated manner the French (and especially their famous "haute cuisine") are made fun of, while at the same time the appreciation of great food is demonstrated (and these apparent opposites do not clash!). Although an animated work, this movie is intended more for the adult audience than for kids. In my eyes it is not a comedy (despite being marketed as one); I would brand it as a social drama with comic moments. Definitely worth watching (more than once!).
---
Do you know something we don't?
Submit a correction or make a comment about this profile

Copyright ©2019 Soylent Communications