Buffalo Soldiers (8-Sep-2001)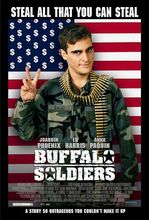 Director: Gregor Jordan
Writers: Gregor Jordan; Eric Axel Weiss; Nora Maccoby
From novel: Buffalo Soldiers by Robert O'Connor
Original Music by: David Holmes
Producers: Rainer Grupe; Ariane Moody




American soldiers stationed in West Germany towards the end of the Cold War operate a criminal enterprise.
ABSTRACT
Elwood, an ethically-challenged American soldier stationed in West Germany near the fall of the Berlin Wall, defends the West from the saber-rattling Soviets by day while running a lucrative criminal enterprise with a number of fellow soldiers by night. Elwood jumps out of his element when he attempts to unload top-flight military technology onto the black market, attracting the attention of his angered superiors as he works to avoid losing his illicit business and freedom.
CAST
Joaquin Phoenix
... Ray Elwood
Ed Harris
... Col. Berman
Scott Glenn
... Sgt. Lee
Anna Paquin
... Robyn Lee
Gabriel Mann
... Knoll
Leon Robinson
... Stoney
Sheik Mahmud-Bey
... Sgt. Saad
Michael Peņa
... Garcia
Glenn Fitzgerald
... Hicks
with
Dean Stockwell
... Gen. Lancaster
Elizabeth McGovern
... Mrs. Berman
Brian Delate
... Col. Marshall
Amani Gethers
... Kirschfield
Noah
... Rothfuss
Tom Ellis
... Squash
Kick Gurry
... Video
Haluk Bilginer
... The Turk
Idris Elba
... Kimborough
Kimo Wills
... Walters
Enoch Frost
... Johnnie
Jimmie Ray Weeks
... Col. Armstrong
Roger Griffiths
... Simmons
Alexis Rodney
... Parsons McCovey
Josef Ostendorf
... Herman
Tom George
... Nerdy Young Soldier
Lars Rudolph
... Courier
Paul Conway
... Frank
Martin Cole
... MP
Ilhani Terzi
... Davood
Alexander Theodossiadis
... Bouncer
Derek Lea
... Truck Driver 1
Mark Newman
... Truck Driver 2
David Crow
... Private
Jason Rayford
... Young Soldier
Sgt. Saad's Men
Gary Washington
... Sgt. Saad's Man
James Battles
... Sgt. Saad's Man
Leon Deavers
... Sgt. Saad's Man
Gerald Jacy
... Sgt. Saad's Man
Michael Johnson
... Sgt. Saad's Man
John Lovett
... Sgt. Saad's Man
Antonio Ruffin
... Sgt. Saad's Man
Glenn Stephens
... Sgt. Saad's Man
Terrence Packer
... Sgt. Saad's Man
REVIEWS
Review by mizi causevic (posted on 13-Feb-2005)
You gotta love certain people in this wonderful United States of American, where... freedom of speech/expression actually stood for something. Now we have pathetic idiots chucking bottles at movie screens because they feel that a movie that mocks the army, is anti-American. Hell, the last time I checked, America wasn't a commie country and writers were free to write about anything they'd like. But hey, that's just me.
In case you are wondering why I chose to start this off with that statement... it's simple. "At a screening of the film on 21 January 2003 at the Sundance Film Festival, a woman in the audience verbally attacked the film during a Q&A period following the presentation. The woman reportedly accused the filmmakers of being anti-American and flung a plastic water bottle. The bottle hit an elderly man in the crowd on the head. The woman claimed the bottle was intended to hit the screen." (imdb) So here we have some whacked out bitch on a low dosage of Prozac who somehow got the balls of steel to do such a thing. Why? Well, she felt as if this movie was Anti-American. I wonder in what way? The movie is about corrupt soldiers who were dealing drugs and weapons. Just how the fuck is that Anti-American? Are we suppose to believe that everything is perfect and peachy clean? It fuckin' ain't. So if anyone has an address of this psycho-bitch from hell, please, do forward it to me so I can send her a box full of suprises.
Going on about the movie... Here we have the very likable Ray Elwood played by Joaquin Phoenix (U Turn, 8MM, Signs) who is doing time in the army for being a rebel. Anyway, he gets himself known, actually well known in the underground scene because he is practically the man to see if you need drugs, weapons, and even cleaning supplies. His fun begins to run out when he is acquainted with Sergeant Lee (Scott Glenn) who is out to just bitch-slap the hell out of him. Slick Ray Elwood notices that Sgt. Lee has a very attractive daughter by the name Robyn played by Anna Paquin (X-Men, X2) and before you know it, those two kids hit it off and Sgt. Lee throws a huge fit, so this is basically when the real fun kicks in. This is basically all there is to a movie, the only thing that bugs me a bit is Ed Harris' character, he simply seemed like he did not need to be there, almost as if he was just a scene feeler. Maybe it's just me, I don't know. Regardless, this movie is quite fun to watch, it is definitely something I will enjoy playing in my DVD player from time to time for a good laugh and etc. This is largely due to the fact that Ray Elwood is a really fun character and his charisma is undeniable.
---
Do you know something we don't?
Submit a correction or make a comment about this profile

Copyright ©2019 Soylent Communications