Twelve O'Clock High (21-Dec-1949)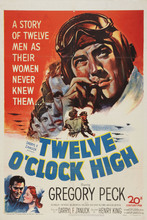 Director: Henry King
Writers: Sy Bartlett; Beirne Lay, Jr.
From novel: Twelve O'clock High! by Beirne Lay, Jr. and Sy Bartlett
Music: Alfred Newman
Producer: Darryl F. Zanuck
Keywords: Action/Adventure, WWII




Col. Frank Savage takes over as head of the beleaguered 918th Bomber Group and tries to turn them into an effective fighting machine. One of the great WWII films; uses real combat footage for aerial scenes. Won Oscars for Best Supporting Actor and Best Sound Recording; received additional nominations for Best Picture and Best Actor. Entered 1998 into the National Film Registry.
| Name | Occupation | Birth | Death | Known for |
| --- | --- | --- | --- | --- |
| Robert Arthur | Actor | 18-Jun-1925 | 1-Oct-2008 | Ace in the Hole |
| Dean Jagger | Actor | 7-Nov-1903 | 5-Feb-1991 | Twelve O'Clock High |
| Hugh Marlowe | Actor | 30-Jan-1911 | 2-May-1982 | Jim Matthews on Another World |
| Gary Merrill | Actor | 2-Aug-1915 | 5-Mar-1990 | All About Eve |
| Millard Mitchell | Actor | 14-Aug-1903 | 13-Oct-1953 | My Six Convicts |
| Gregory Peck | Actor | 5-Apr-1916 | 12-Jun-2003 | To Kill A Mockingbird |
| Paul Stewart | Actor | 13-Mar-1908 | 17-Feb-1986 | Citizen Kane |
CAST
REVIEWS
Review by Richard Conner (posted on 17-Sep-2007)
Gregory Peck is among the very best of actors, and no role he played is any better than the brigadier general sent in to rescue the morale and effectiveness of an American bomber wing in World War Two. The wing, demoralized and without disclipline, became so because of the virtual collapse of its commanding officer under the pressures of trying to coordinate multiple massive bombing runs on Nazi targets in the face of severe losses and exhausted crews. The film does an amazing job of following Peck's approach to reconstituting the morale of both officers and men, but also the gradual effect of the same pressures on him. True to historical form and content, the film is gripping and enormously entertaining from beginning to end. One comes away almost overwhelmed with the impact on history such men made, and the price they paid in their contribution to winning the war. There is probably no WW2 movie that better captures the drama of that desperate period than this one, and the supporting cast is exceptional. Well worth seeing, more than once over time for most.
---
Do you know something we don't?
Submit a correction or make a comment about this profile

Copyright ©2019 Soylent Communications