Men of Honor (14-Sep-2000)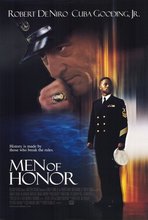 Director: George Tillman, Jr.
Writer: Scott Marshall Smith
Music by: Mark Isham
Producers: Robert Teitel; Bob Badalato




Biopic dramatizes the life and career of Carl Brashear, the United States Navy's first black and amputee diver.
ABSTRACT
Carl Brashear is a black American suffering through a time of great racial turmoil and prejudice, aspiring to become his country's Navy's first black diver. Men of Honor follows Carl as he breaks down long-standing racial barriers and resentment towards achieving his ultimate goal, doing so even as trainer and commander Billy Sunday appears dead set on preventing him from graduating from the Navy's training academy.
CAST
Robert De Niro
... Billy Sunday
Cuba Gooding, Jr.
... Carl Brashear
Aunjanue Ellis
... Jo
Hal Holbrook
... Mr. Pappy
David Keith
... Capt. Hartigan
Michael Rapaport
... Snowhill
Powers Boothe
... Capt. Pullman
Joshua Leonard
... Isert
David Conrad
... Hanks
Glynn Turman
... Chief Floyd
Holt McCallany
... Rourke
Lonette McKee
... Ella -- Carl's Mother
Carl Lumbly
... Mac -- Carl's Father
Charlize Theron
... Gwen
Dennis Troutman
... Boots
Joshua Feinman
... DuBoyce
Theo Pagones
... Mellegrano
Ryan Honey
... Yarmouth
Chris Warren, Jr.
... Young Carl
Lester B. Hanson
... Adm. Yon
Jack Frazier
... Rear Adm. French
David Richard Heath
... Medical Officer
Demene E. Hall
... Mrs. Biddle
Alimi Ballard
... Coke
Shawn Michael Howard
... Junie
Troy Lund
... Blonde Gate SP
Henry Harris
... Rescued Pilot
Matt Dotson
... Marine Guard
David Meyers
... Dr. Cudahy
Richard Perry Turner
... Dr. Dinkins
George "Chick" Rankins
... Cab Driver
Richard Sanders
... Bartender
Nasir Najieb
... Black Inductee
Dennis Bateman
... Navy Instructor
Eric Newsome
... Naked Grunt
Steven Clark Pachosa
... Navy Recruiter
Marilyn Faith Hickey
... Pinch-Faced Woman
Bruce Burkhartsmeier
... Presiding Officer
Michael Tyrone Williamson
... Waiter
Michelle Guthrie
... Therapist
Michael Patrick Egan
... Sailor
Scott Kraft
... Ropeleski
Tim Monsion
... News Reporter
Dulé Hill
... Red Tail
Timothy McCuen Piggee
... School Master
John J. Polce
... Hospital Security
The Count
... Band Leader
Allen Gerbino
... Aerial Coordinator / Pilot #1
Art Gotisar
... Pilot #2
Robert Blanche
... Shore Patrolman
Ivory L. Dilley
... Frantic Girl
Chad W. Smathers
... Drowning Boy
Wayne Morse
... Navy Orderly
Rachel Jahn
... Candy Striper
Jon Du Clos
... Sunday's Assistant
Leon Russom
... Decker
Richard Radecki
... Fan Tail Chief
Randy Flagler
... Bomb Chief
Jeremy Taylor
... Deckhand
Jason Bailey
... Sonar Man
REVIEWS
Do you know something we don't?
Submit a correction or make a comment about this profile

Copyright ©2019 Soylent Communications