Die Another Day (18-Nov-2002)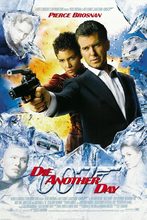 Director: Lee Tamahori
Writers: Neal Purvis; Robert Wade
Music by: David Arnold
Producers: Michael G. Wilson; Barbara Broccoli
Keywords: Action/Adventure, James Bond, Cuba, Explosions




James Bond flick follows Agent 007 as he looks to uncover ties between North Korean terrorism and the development of a turbocharged space-based weapon.
ABSTRACT
Pierce Brosnan's final turn as dashingly British super spy James Bond finds him setting out to North Korea for a new mission. Imprisoned and returned to his home country in a prisoner exchange after he is betrayed by an associate, Bond eventually resumes work hunting down North Korean terrorist Zao; when he learns of the man's connections to millionaire Gustav Graves' plans to build a space-based laser-shooting cannon, however, his mission blossoms into a globetrotting effort to prevent a communist apparatchik from wreaking havoc on the rest of the world.
CAST
Pierce Brosnan
... James Bond
starring
Halle Berry
... Jinx
Toby Stephens
... Gustav Graves
Rosamund Pike
... Miranda Frost
Rick Yune
... Zao
Kenneth Tsang
... Gen. Moon
Will Yun Lee
... Col. Moon
Emilio Echevarría
... Raoul
Samantha Bond
... Moneypenny
Colin Salmon
... Robinson
Michael Gorevoy
... Vlad
Lawrence Makoare
... Mr. Kil
John Cleese
... Q
and
Judi Dench
... M
Michael Madsen
... Falco
Ben Wee
... Snooty Desk Clerk
Ho Yi
... Hotel Manager
Rachel Grant
... Peaceful
Ian Pirie
... Creep
Simon Andreu
... Dr. Alvarez
Mark Dymond
... Van Bierk
Deborah Moore
... Air Hostess
Oliver Skeete
... Concierge
Joaquín Martínez
... Old Man Cigar Factory
Michael G. Wilson
... Gen. Chandler
Daryl Kwan
... Gen. Han
Vincent Wong
... Gen. Li
Stuart Ong
... Gen. Dong
Manolo Caro
... Cuban Waiter
Tymarah
... Korean Scorpion Guard
Paul Darrow
... Doctor
Lucas Hare
... Medic
Cristina Contes
... Nurse
Stewart Scudamore
... Buckingham Palace Reporter
Bill Nash
... Buckingham Palace Reporter
James Wallace
... Buckingham Palace Reporter
Ami Chorlton
... Buckingham Palace Reporter
REVIEWS
Review by Vinny Pop (posted on 22-Mar-2005)
This movie was the worst Bond of the franchise... simple as that. The omens looked bad from the start -- Madonna's "Die Another Day" made for the film was the worst of all the soundtrack openers, then came the plot... I heard the plot from a friend who had seen it while abroad, I really thought it was a joke, it made no sense! The gadgets are completely ridiculous: an invisible car... the villain is laughable, more a comic-book villain than a Bond one. He wasn't an evil genius, just a git with too much time and money. I almost expected him to be able to fly but thankfully the audience's intelligence wasn't insulted further. You're lucky that you've been dropped Pierce. This fiasco spells the beginning of the end for Jimmy Bond.
---
Do you know something we don't?
Submit a correction or make a comment about this profile

Copyright ©2019 Soylent Communications