Return to Peyton Place (5-May-1961)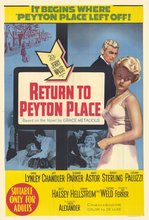 Director: Jose Ferrer
Writer: Ronald Alexander
From novel: Return to Peyton Place by Grace Metalious
Keywords: Drama




Allison MacKenzie writes a tell-all novel, Samuel's Castle, about her hometown Peyton Place; upon publication by Lewis Jackman the town's denizens are appalled by the unseemly revelations. MacKenzie later has an affair with the married Jackman. Sequel to Peyton Place (1957), of which this is a pale shadow. No original cast members are here; the only bright spot is Mary Astor's performance.
[watch trailer]
CAST
REVIEWS
Review by elliottrainbow (posted on 18-Mar-2005)
The sequel to Peyton Place (1957) doesn't have any of the original actors from that film reprising their roles and it doesn't follow the book very much but it's still a pretty good movie. Carol Lynley is very good as Allison MacKenzie. The characters of Selena Cross and Ted Carter are nothing like the book and what happens to them in this movie isn't as interesting. Mary Astor is just right as Ted's puritanical mother. Jeff Chandler is good as Allison's book editor Lewis Jackman but he and Carol Lynley only kiss (and only once at that!) and do not have an affair like in the book. I recommend this movie but only as the second part of a DVD double feature with the original Peyton Place.
---
Do you know something we don't?
Submit a correction or make a comment about this profile

Copyright ©2019 Soylent Communications