The Night of the Hunter (19-Feb-1955)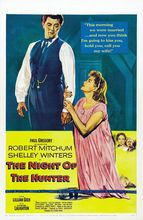 Director: Charles Laughton
Writer: James Agee
From novel: The Night of the Hunter by Davis Grubb
Music by: Walter Schumann
Producer: Paul Gregory




The cellmate of an executed bank robber marries the widow and murders her, but finds only the children know where the $10,000 loot is stashed. Savaged by critics upon release, Laughton never again directed, but his film's reputation has increased over time. It is an outlier film that does not follow the usual conventions of the time. Entered 1992 into the National Film Registry.
[watch trailer]
| Name | Occupation | Birth | Death | Known for |
| --- | --- | --- | --- | --- |
| Don Beddoe | Actor | 1-Jul-1903 | 19-Jan-1991 | The Night of the Hunter |
| Lillian Gish | Actor | 14-Oct-1893 | 27-Feb-1993 | Silent film actress, director |
| James Gleason | Actor | 23-May-1882 | 12-Apr-1959 | Here Comes Mr. Jordan |
| Peter Graves | Actor | 18-Mar-1926 | 14-Mar-2010 | Mission: Impossible |
| Robert Mitchum | Actor | 6-Aug-1917 | 1-Jul-1997 | Cape Fear |
| Evelyn Varden | Actor | 12-Jun-1893 | 11-Jul-1958 | The Bad Seed |
| Shelley Winters | Actor | 18-Aug-1920 | 14-Jan-2006 | Method actress and camp queen |
CAST
REVIEWS
Review by Tay Joslin (posted on 7-Jul-2010)
In what many consider to be his most compatible role as an actor, Robert Mitchum portrays Reverend Harry Powell, a convicted-felon-turned-psychotic-preacher, in this 1955 classic directed by Charles Laughton. Harry Powell is a convict who travels from town to town in pursuit of financial gain by preying upon lonely widows and acquiring their savings before deserting to his next victim. He imitates the role of a traveling preacher and easily charms the locals wherever he roams. With L-O-V-E tattooed on his right hand and H-A-T-E tattooed on his left hand, he tells his own version of the Biblical account of "Cain and Abel" - performed so well, in fact, that many moviegoers in 1955 assumed that Mitchum might have received a religious education during his youth (a rumor that has never been proven to be factual). Mitchum also proves himself as a talented vocalist in "The Night of the Hunter" with the hymn "Leaning on the Everlasting Arms"; with a rich baritone voice, he sings the hymn more than once during the course of the movie. As the story unfolds, Reverend Powell becomes more and more devious and homicidal despite being looked upon with favor by numerous sympathizing followers. In secret, he wishes to kill two young children (a brother, John, and his little sister, Pearl) after slitting their mother's throat and dumping her into a river. Powell is certain that the two children know where a small fortune in cash is hidden and trails them along the banks of a river on horseback (the horse is stolen by Powell). At the end, the children are taken in by a kind elderly woman who is a caregiver for several other homeless children. It is this woman who stands up against the wicked Reverend Powell and puts an end to his crime spree. "The Night of the Hunter" is a still pop-culture favorite and is arguably revered as the best performance of Robert Mitchum's career. Four stars all the way!
---
Do you know something we don't?
Submit a correction or make a comment about this profile

Copyright ©2019 Soylent Communications