The Mist (21-Nov-2007)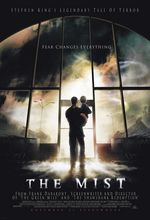 Director: Frank Darabont
Writer: Frank Darabont
From short story by: Stephen King
Keywords: Horror




A small town's ramshackle populace must fight for their lives when a bizarre storm places ghastly creatures in their midst.
ABSTRACT
Adapted from the best-selling Stephen King novel of the same name, The Mist is a quintessentially Kingian tale of supernatural chaos in a blindsided small town. It starts with a strange mist on the town's lake noted and ignored by local Dave Drayton; what follows, however, is an utterly terrifying invasion of bloodthirsty creatures possibly connected to a top-secret military project lurking in the mist, forcing eighty townsfolk including Drayton and his son to take shelter inside a supermarket as they make their last stand against the invading monsters -- believed by one old woman to be a harbinger of the End Times -- while searching for answers amidst the madness.
REVIEWS
Review by Ellene Miller (posted on 7-Apr-2008)
I was horribly disappointed with this movie. The cast appeared to be a great one. Unfortunately for them, the script was dreadful. I've enjoyed most of them in other movies. There were a few moments that made me laugh. Overall, it was lame and I hated the ending. I almost turned the DVD off but, I wanted to see the ending. I regretted my decision. Wait for it to come to cable. Watch it if there is nothing else to do and you don't mind disappointment.
---
Do you know something we don't?
Submit a correction or make a comment about this profile

Copyright ©2019 Soylent Communications