Heaven's Gate (19-Nov-1980)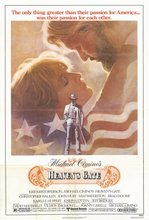 Director: Michael Cimino
Writer: Michael Cimino
Music by: David Mansfield
Producer: Joann Carelli
Keywords: Western




Western epic follows a standoff between land barons and European immigrants in 19th-century Wyoming.
ABSTRACT
Emboldened by the critical and commercial success of The Deer Hunter, director Michael Cimino pushed ahead with Heaven's Gate, a mammoth period piece detailing a semi-historical battle between moneyed cattle barons and impoverished European immigrants in 1890s Wyoming. Saddled with production delays and an out-of-control budget owing to the perfectionist tendencies of its creator, Heaven's Gate was a failure with Western-averse audiences and domestic critics, though somewhat better received by Europeans. The director's cut is not without its merits; it is still easy to figure out why this picture nearly single-handedly killed "auteur"-heavy New Hollywood.
CAST
Kris Kristofferson
... Averill
Co-Starring
Christopher Walken
... Champion
John Hurt
... Irvine
Sam Waterston
... Canton
Brad Dourif
... Mr. Eggleston
Isabelle Huppert
... Ella
Joseph Cotten
... The Reverend Doctor
Also Starring
Jeff Bridges
... John L. Bridges
with
Geoffrey Lewis
... Trapper
Paul Koslo
... Mayor Charlie Lezak
Richard Masur
... Cully
Ronnie Hawkins
... Wolcott
Roseanne Vela
... Beautiful Girl
Mary C. Wright
... Nell
Nicholas Woodeson
... Small Man
Stefan Shcherby
... Big Man
Waldemar Kalinowski
... Photographer
Terry O'Quinn
... Capt. Minardi
John Conley
... Morrison
Margaret Benczak
... Mrs. Eggleston
James Knobeloch
... Kopestonsky
Erika Petersen
... Mrs. Kopestonsky
Robin Bartlett
... Mrs. Lezak
Tom Noonan
... Jake
Marat Yusim
... Russian Merchant
Aivars Smits
... Mr. Kovach
Gordana Rashovich
... Mrs. Kovach
Jarlath Conroy
... Mercenary in New Suit
Allen Keller
... Dudley
Caroline Kava
... Stefka
Mady Kaplan
... Kathia
Anna Levine
... Little Dot
Pat Hodges
... Jessie
Mickey Rourke
... Nick Ray
Kevin McClarnon
... Arapaho Brown
Kai Wulff
... German Merchant
Steve Majstorovic
... Czech Merchant
Gabriel Walsh
... Zindel's Clerk
Norton Buffalo
... Private
Jack Blessing
... Emigrant Boy
Jerry Sullivan
... Governor of Wyoming
Jerry McGee
... Heaven's Gate Band
Cleve Dupin
... Heaven's Gate Band
Stephen Bruton
... Heaven's Gate Band
Sean Hopper
... Heaven's Gate Band
David Mansfield
... Heaven's Gate Band
T-Bone Burnett
... Heaven's Gate Band
David Cass
... Moustached Mercenary
Paul D'Amato
... Bearded Mercenary
Peter Osusky
... Peter
Ivan Kormanik
... Ivan
Michael Christensen
... Juggler
Anatoly Davydov
... Fighting Bulgarian Emigrant
Nina Gaidarova
... Bulgarian Emigrant's Wife
Wally McCleskey
... Chicken Fighter
Gary (Buzz) Vezane
... Canton's Bodyguard
H. P. Evetts
... Wolcott's Bodyguard
Bruce Morgan
... Miner (Mercenary)
Bobby Faber
... Class Marshal (Harvard)
Judi Trot
... Irvine's Girl Friend
REVIEWS
Review by Jack McCord (posted on 29-Apr-2008)
Heaven's Gate is an overlooked gem, born in ignominy because it ran over budget so. But it is actually one of the most interesting Westerns ever filmed, and probably gets closer to the truth of the actual American west than most westerns do.
---
Do you know something we don't?
Submit a correction or make a comment about this profile

Copyright ©2019 Soylent Communications