Hud (28-May-1963)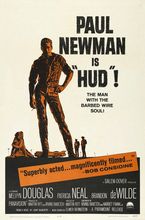 Director: Martin Ritt
Writers: Irving Ravetch; Harriet Frank, Jr.
From novel: Horseman, Pass By by Larry McMurtry
Music Scored by: Elmer Bernstein
Producers: Martin Ritt; Irving Ravetch




Hud Bannon is an utter wastrel of a man, womanizing, boozing, and brawling. He lives on a Texas ranch with his elderly father, his 17-year-old nephew who worships him, and a housekeeper. Events occur which put the ranch's future in jeopardy. Won Oscars for Best Actress, Best Supporting Actor, and Best Cinematography; received additional nominations for Best Actor, Best Director, Best Adaptation, and Best Set Decoration.
[watch trailer]
| Name | Occupation | Birth | Death | Known for |
| --- | --- | --- | --- | --- |
| John Ashley | Actor | 25-Dec-1934 | 3-Oct-1997 | Beach Blanket Bingo |
| Val Avery | Actor | 14-Jul-1924 | 12-Dec-2009 | The Anderson Tapes |
| Whit Bissell | Actor | 25-Oct-1909 | 5-Mar-1996 | The Time Tunnel |
| Brandon De Wilde | Actor | 9-Apr-1942 | 6-Jul-1972 | Shane! Come back! |
| Melvyn Douglas | Actor | 5-Apr-1901 | 4-Aug-1981 | Being There |
| Patricia Neal | Actor | 20-Jan-1926 | 8-Aug-2010 | The Day the Earth Stood Still |
| Paul Newman | Actor | 26-Jan-1925 | 26-Sep-2008 | Salad dressing magnate |
| George O. Petrie | Actor | 16-Nov-1912 | 16-Nov-1997 | Harv Smithfield on Dallas |
| Yvette Vickers | Actor | 26-Aug-1928 | 27-Apr-2011 | Attack of the 50 Foot Woman |
CAST
REVIEWS
Do you know something we don't?
Submit a correction or make a comment about this profile

Copyright ©2019 Soylent Communications