Kick-Ass 2 (14-Aug-2013)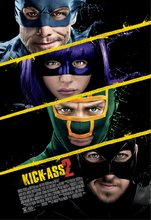 Director: Jeff Wadlow
Writer: Jeff Wadlow
From comic book by: Mark Millar and John S. Romita, Jr.
Music: Henry Jackman; Matthew Margeson
Producers: Adam Bohling; Tarquin Pack; Brad Pitt; David Reid; Matthew Vaughn
Keywords: Action/Comedy, Superheroes, Comic Book




Sequel to 2010's everyman comic-book hero romp follows the continuing adventures of Dave Lizewski as he returns to his superhero career and gears up for a new fight.
ABSTRACT
Sequel to Kick-Ass (2010). Picking up from where Kick-Ass left off, Dave Lizewski of Staten Island decides to return to his career as "Kick-Ass", banding together with a cadre of good-guy vigilantes as they square off against Chris D'Amico, a villain referring to himself as "The Motherfucker" who seeks to exact revenge on Lizewski for the death of his father.
[watch trailer]
REVIEWS
Do you know something we don't?
Submit a correction or make a comment about this profile

Copyright ©2019 Soylent Communications