The Day of the Jackal (30-Jul-1973)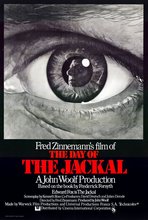 Director: Fred Zinnemann
Writer: Kenneth Ross
From novel: The Day of the Jackal by Frederick Forsyth
Music Composed and Conducted by: Georges Delerue
Producer: John Woolf
Keywords: Thriller, Assassination, Sniper




A conservative faction, upset over his ending the bloody war in Algeria, hires a legendary assassin to kill French President Charles de Gaulle. Detective Claude Lebel is tasked with trying to stop a killer about whom almost nothing is known. Masterpiece political thriller, with minimal dialogue and the viewer in constant suspense. Received an Oscar nomination for Best Editing.
CAST
Edward Fox
... The Jackal
and
Terence Alexander
... Lloyd
Michel Auclair
... Col. Rolland
Alan Badel
... The Minister
Tony Britton
... Insp. Thomas
Denis Carey
... Casson
Adrien Cayla-Legrand
... The President
Cyril Cusack
... The Gunsmith
Maurice Denham
... Gen. Colbert
Vernon Dobtcheff
... The Interrogator
Jacques François
... Pascal
Olga Georges-Picot
... Denise
Raymond Gerome
... Flavigny
Barrie Ingham
... St. Clair
Derek Jacobi
... Caron
Michael Lonsdale
... Lebel
Jean Martin
... Wolenski
Ronald Pickup
... The Forger
Eric Porter
... Col. Rodin
Anton Rodgers
... Bernard
Delphine Seyrig
... Colette
Donald Sinden
... Mallinson
Jean Sorel
... Bastien-Thiry
David Swift
... Montclair
Timothy West
... Berthier
with
Bernard Archard
...
Jacques Alric
...
Colette Berge
...
Edmond Bernard
...
Gerard Buhr
...
Philippe Leotard
...
Maurice Teynac
...
Van Doude
...
Nicolas Vogel
...
REVIEWS
Review by Al Lopez, CEBS (posted on 10-Feb-2008)
Realism. I always look for characters and a plot that are believeable. Of course my boundaries are wider in all directions. Edward Fox is uniquely cast for the role of Chacal. The part of Inspector Lloyd is also quite good. You know from the start that Lloyd is capable of winning. Somehow I am always looking for the fork in the road that eventually is the doom of Chacal. Richard Remy and Rod Taylor will be immortalized, now Edward Fox.
---
Review by anonymous (posted on 27-Jun-2006)
This is the very best in masterful storytelling. Fox's performance as a cool psychotic assassin is hypnotic in its intensity. Just a beautiful British/French collaboration with actors who really know what it means to be professional. It's the kind of movie that film aficionados crave but rarely experience.
---
Do you know something we don't?
Submit a correction or make a comment about this profile

Copyright ©2019 Soylent Communications