The Paper Chase (16-Oct-1973)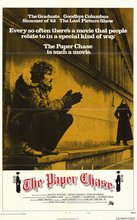 Director: James Bridges
Writer: James Bridges
From novel: The Paper Chase by John Jay Osborn, Jr.
Music by: John Williams
Producers: Robert C. Thompson; Rodrick Paul




Freshman law student James Hart is unprepared for Harvard Law School, in particular for Prof. Kingsfield's demanding class in contract law. He falls in love with the beautiful Susan, not realizing that she is Kingston's daughter. Somewhat dated but still a first-rate drama. John Houseman won an Oscar for Best Supporting Actor; the film received additional nominations for Best Adaptation and Best Sound.
CAST
Timothy Bottoms
... Hart
Lindsay Wagner
... Susan
Co-Starring
Graham Beckel
... Ford
James Naughton
... Kevin
Craig Richard Nelson
... Bell
Edward Herrmann
... Anderson
Robert Lydiard
... O'Connor
With
Regina Baff
... Asheley
Lenny Baker
... Moss
David Clennon
... Toombs
Irma Hurley
... Mrs. Weasal
And
John Houseman
... Kingsfield
Bill Moher
... Philip
Blair Brown
... Miss Farranti
Richard Whelan
... Pruit
Alan Kwinter
... Sanders
Nicholas Olah
... Knight
David B. Johns
... Fisher
Tony Silverthorne
... Hotel Manager
John Bethune
... Hotel Clerk
Jan Campbell
... 1st Hotel Maid
Dora Dainton
... 2nd Hotel Maid
REVIEWS
Review by anonymous (posted on 8-May-2006)
The film does a good job describing life as a student at Harvard in the early '70's. Most notable is the absence of female students. While a few are seen, not one of them says a word. The class is large...60 or 70 students, but the professor never calls on any of them. Of course they can always volunteer to say something. College is still that way...If you raise your hand and ask some penetrating questions, your grade will relect it. It was as if the female students knew their place. John Hausmen is outstanding...he always is. No other living actor could have done any better. I give it 3 stars. I'd see it again. Paul K.
---
Do you know something we don't?
Submit a correction or make a comment about this profile

Copyright ©2019 Soylent Communications