Red Dawn (10-Aug-1984)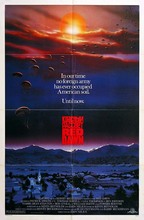 Director: John Milius
Writers: Kevin Reynolds; John Milius
Music by: Basil Poledouris
Producers: Buzz Feitshans; Barry Beckerman
Keywords: Action/Adventure




After the dissolution of NATO, a Marxist revolution in Mexico, and the failure of the Ukrainian wheat harvest, the Soviet Union invades the United States; a small group of high school kids in the Midwest brand themselves The Wolverines and take up arms against the occupiers. Jingoistic teen-action film was the very first to receive a PG-13 rating; while preposterous in every respect, it tapped into a very real vibe at the time, earning $38M at the box office.
CAST
Starring
Patrick Swayze
... Jed
C. Thomas Howell
... Robert
Lea Thompson
... Erica
Charlie Sheen
... Matt
Darren Dalton
... Daryl
Jennifer Grey
... Toni
Brad Savage
... Danny
Doug Toby
... Aardvark
Ben Johnson
... Mason
Harry Dean Stanton
... Mr. Eckert
Ron O'Neal
... Bella
William Smith
... Strelnikov
Vladek Sheybal
... Bratchenko
and
Powers Boothe
... Andy
Co-Starring
Frank McRae
... Mr. Teasdale
Roy Jenson
... Mr. Morris
Pepe Serna
... Aardvark's Father
Lane Smith
... Mayor Bates
Judd Omen
... The Nicaraguan Captain
Michael D'Agosta
... Boy in Classroom
Johelen Carleton
... Girl in Classroom
George Ganchev
... Soldier #1
Waldemar Kalinowski
... Soldier #2
Sam Slovick
... Yuri
Radames Pera
... Stepan Gorsky
Lois Kimbrell
... Mrs. Mason
Elan Oberon
... Alicia
Harley Christensen
... Man on Pole
Tacy Norwood
... Rat Girl
Fred Rexer
... Tank Survivor
Michael Meisner
... Russian Tanker #1
Victor Meisner
... Russian Tanker #2
Raquel Provance
... Rachel
Vojo Goric
... Russian Sergeant
Gene Scherer
... KGB #1
Tom Ireland
... KGB #2
Christopher Janczar
... Soviet Soldier
Phil Mead
... Mr. Barnes
Sam Dodge
... Man at Drive-In
Ben Zeller
... Man #2 at Drive-In
Dan Sparks
... Man #3 at Drive-In
Ben Schick
... Russian Sergeant
George Fisher
... KGB Major
Zitto Kazann
... Political Officer
Chuk Besher
... Door Gunner
Jay Dee Ruybal
... Cuban Crew Chief
Pacho Lane
... Firing Squad Officer
Julius L. Meyer
... Latin Soldier
REVIEWS
Review by u hrair (posted on 18-May-2005)
John Milius' "Red Dawn" has become a classic showcase of Cold War panic, influencing an entire generation of young Americans. The film also holds the distinction of being the first movie ever rated PG-13. "Red Dawn" tells the story of a Communist invasion of the United States, spearheaded by the forces of the Soviet Union and aided by the troops of its Communist allies in the Western Hemisphere. The film centers around a group of high school students in Washington state (including Charlie Sheen, Patrick Swayze, and Ally Sheedy) who flee to the mountains and carry out a campaign of guerilla resistance against the new Soviet overlords of the United States. This underground resistance movement, the Wolverines, launch small-scale attacks and ambushes on the Soviet troops in much the same way that Iraqi resistance fighters are currently attempting to deal with the military superiority of occupying American forces in their own country. The fanciful military plot is made yet stranger by the teen-movie feel of the story. "Red Dawn" is more than a bit of Cold War propaganda: it is also a clumsy coming of age story, rife with awful dialogue and wooden acting. The movie does contain a few memorable lines for generation X, including a downed pilot's description of America's last allies as "five-hundred million screaming Chinamen." Despite the poor quality of the combat scenes and the ludicrous developments of its plot, "Red Dawn" is a significant film. The movie may well have had an influence on the American public of the time. Coming just two years after Ronald Reagan's (in)famous "Evil Empire" speech, "Red Dawn" helped to generate a renewed atmosphere of suspicion and fear in a country that had become complacent following the relatively calm U.S.-Soviet "detente" of the 1970's. Much has been written about the Ronald Reagan administration's manipulation of this public fear in the justification of its Strategic Defense Initiative ("Star Wars"). "Red Dawn" was certainly a powerful pop-culture rebuke of the nuclear-freeze movement and other dovish responses to the arms race. The film's portrayal of Russian soldiers as dark-skinned bestial rapists and brutal murderers fits into the classic mould of wartime propaganda, and its portrayal of the relatively free life of the guerillas, reduced to a simple and pure state closer to the mythic past of the American West is similar to other fantasies of destruction, survival and rebirth. The movie's ending is sufficiently vague as to remain an effective propaganda tool, implying, but not stating, the inevitable American victory. Although "Red Dawn" has become dated by the collapse of the USSR, its extreme portrayal of nationalism, fear, and militarism make the movie interesting even to viewers who do not remember the oppressive terror of Mutually Assured Destruction. And besides, 80's kitsch will never die.
---
Do you know something we don't?
Submit a correction or make a comment about this profile

Copyright ©2019 Soylent Communications