This Is Spinal Tap (2-Mar-1984)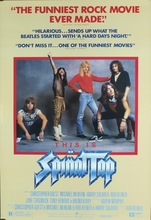 Director: Rob Reiner
Writers: Christopher Guest; Michael McKean; Harry Shearer; Rob Reiner
Music and Lyrics by: Christopher Guest; Michael McKean; Harry Shearer; Rob Reiner
Producer: Karen Murphy
Keywords: Comedy, Rock and Roll, Mockumentary




Heavy Metal band Spinal Tap is lead singer David St. Hubbins, lead guitarist Nigel Tufnel, and bassist Derek Smalls, plus a drummer whose life expectancy tends to be quite short -- one drummer died choking on vomit (Tufnel: "Actually, he choked on someone else's vomit.") The ultimate mockumentary of rock and roll, now a cult classic. Much of the film is ad-lib, and will require multiple viewings to catch everything. Directorial debut of Rob Reiner. Entered 2002 into the National Film Registry.
David Konow, Bang Your Head: The Rise and Fall of Heavy Metal (2009), page 206:
"Steven Tyler almost couldn't watch the whole film. At the time of Spinal Tap's release, Aerosmith was on its last legs. Their latest album, Rock in a Hard Place, had Stonehenge on the cover, and here was the joke band with a stage set that looked just like their album cover. "That movie was way too close, way too real", said Tyler. "I took Spinal Tap real personal." As Harry Shearer put it, "The closer we got to the real thing, the closer the real thing dared to get to us. Reality was calling our bluff at every step."
[watch trailer]
CAST
Christopher Guest
... Nigel Tufnel
Michael McKean
... David St. Hubbins
Harry Shearer
... Derek Smalls
Rob Reiner
... Marty DiBergi
June Chadwick
... Jeanine Pettibone
Tony Hendra
... Ian Faith
Bruno Kirby
... Tommy Pischedda
Ed Begley, Jr.
... John "Stumpy" Pepys
Paul Benedict
... Tucker "Smitty" Brown
Zane Buzby
... Rolling Stone Reporter
Billy Crystal
... Morty the Mime
Howard Hesseman
... Terry Ladd
Patrick Macnee
... Sir Denis Eton-Hogg
Paul Shaffer
... Artie Fufkin
Fred Willard
... Lt. Hookstratten
R. J. Parnell
... Mick Shrimpton
David Kaff
... Viv Savage
Fran Drescher
... Bobbi Flekman
Joyce Hyser
... Belinda
Vicki Blue
... Cindy
Anjelica Huston
... Polly Deutsch
Kimberly Stringer
... Heavy Metal Fan
Chazz Dominguez
... Heavy Metal Fan
Shari Hall
... Heavy Metal Fan
Jean Cromie
... Ethereal Fan
Patrick Maher
... New York M.C.
Danny Kortchmar
... Ronnie Pudding
Memo Vera
... Bartender
Julie Payne
... Mime Waitress
Dana Carvey
... Mime Waiter
Sandy Helberg
... Angelo DiMentibelio
Robin Mencken
... Angelo's Associate
Jennifer Child
... Limo Groupie
J. J. Barry
... Rack Jobber
George McDaniel
... Southern Rock Promoter
Anne Churchill
... Reba
Paul Shortino
... Duke Fame
Cherie Darr
... Fame Groupie
Lara Cody
... Fame Groupie
Andrew J. Lederer
... Student Promoter
Russ Kunkel
... Eric "Stumpy Joe" Childs
Diana Duncan
... "Jamboree Bop" Dancer
Gina Marie Pitrello
... "Jamboree Bop" Dancer
Gloria Gifford
... Airport Security Officer
Archie Hahn
... Room Service Guy
Charles Levin
... Disc 'n' Dat Manager
Wonderful Smith
... Janitor
Chris Romano
... Little Druid
Daniel Rodgers
... Little Druid
Fred Asparagus
... Joe "Mama" Besser
Rodney Kemerer
... L.A. Party Guest
Robert Bauer
... Moke
REVIEWS
Do you know something we don't?
Submit a correction or make a comment about this profile

Copyright ©2019 Soylent Communications