The Karate Kid (22-Jun-1984)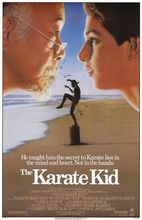 Director: John G. Avildsen
Writer: Robert Mark Kamen
Music by: Bill Conti
Producer: Jerry Weintraub
Keywords: Drama, Martial Arts, Coming of Age




Young Daniel LaRusso is uprooted when his mother moves from New Jersey to California; he hits on Ali, ex-girlfriend of Johnny Lawrence of the Cobra Kai martial arts school, and receives a beating from Johnny for his effort. Befriended by his neighbor Miyagi, the elderly handyman trains Daniel in the fine points of karate. Pat Morita received an Oscar nomination for Best Supporting Actor. Spawned multiple sequels and a remake.
[watch trailer]
CAST
Ralph Macchio
... Daniel
Pat Morita
... Miyagi
Elisabeth Shue
... Ali
William Zabka
... Johnny
Randee Heller
... Lucille
Martin Kove
... Kreese
Featuring
Ron Thomas
... Bobby
Rob Garrison
... Tommy
Chad McQueen
... Dutch
Tony O'Dell
... Jimmy
Israel Juarbe
... Freddy
William Bassett
... Mr. Mills
Larry B. Scott
... Jerry
Juli Fields
... Susan
Dana Andersen
... Barbara
Frank Burt Avalon
... Chucky
Jeff Fishman
... Billy
Ken Daly
... Chris
Tom Fridley
... Alan
Pat E. Johnson
... Referee
Bruce Malmuth
... Ring Announcer
Darryl Vidal
... Karate Semi-finalist
Frances Bay
... Lady with Dog
Christopher Kriesa
... Official
Bernard Kuby
... Mr. Harris
Joan Lemmo
... Restaurant Manager
Helen J. Siff
... Cashier
Larry Drake
... Yahoo #1
David Abbott
... Yahoo #2
Molly Basler
... Cheerleading Coach
Brian Davis
... Boy in Bathroom
David De Lange
... Waiter
Erik Felix
... Karate Student
Peter Jason
... Soccer Coach
Todd Lookinland
... Chicken Boy
Clarence McGee, Jr.
... Referee #2
William Norren
... Doctor
Sam Scarber
... Referee #3
Scott Strader
... Eddie
REVIEWS
Review by anonymous (posted on 12-May-2006)
Daniel is an Italian kid who quickley becomes the stand-out of the blonde Californian Crowd. He befriends a nice girl Ali on the beach on his first day of moving. It leads to trouble after Ali's ex-boyfriend Karate champion John comes by. After Daniel is being bullied on a daily basis by John, he soons starts to try to defend himself. Then he meets Mr. Miyagi who soon helps Daniel with karate, and promises to John's karate sensai that Daniel and John shall fight at the Karate Tournament. He soon gets more than he ever could, a new love for Ali, more confidence in himself and creating a wonderful friendship between him and his fatherly friend Mr. Miyagi. After all his training, it was time to show he could be someone for his mother, Mr. Miyagi, his friends and his girlfriend Ali. It is and remains an 80's classic.
---
Do you know something we don't?
Submit a correction or make a comment about this profile

Copyright ©2019 Soylent Communications