Psycho (16-Jun-1960)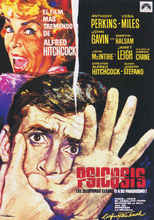 Director: Alfred Hitchcock
Writer: Joseph Stefano
From novel: Psycho by Robert Bloch
Music by: Bernard Herrmann
Keywords: Horror, Slasher, Multiple Personalities




A young secretary in Phoenix absconds with $40,000 from her employer, then flees the city, stopping at the Bates Motel for rest and a bite to eat. The motel owner, Norman Bates, is twitchy but seems pleasant enough; his mother, heard but not seen, sounds irritable. Technically excellent and highly innovative film rewrote the genre of horror in 1960; received Oscar nominations for Best Director, Best Actress, Best Cinematography and Best Set Decoration.
| Name | Occupation | Birth | Death | Known for |
| --- | --- | --- | --- | --- |
| Frank Albertson | Actor | 2-Feb-1909 | 29-Feb-1964 | American character actor |
| John Anderson | Actor | 20-Oct-1922 | 7-Aug-1992 | Harry Jackson on MacGyver |
| Martin Balsam | Actor | 4-Nov-1919 | 13-Feb-1996 | A Thousand Clowns |
| John Gavin | Actor | 8-Apr-1928 | 9-Feb-2018 | Julius Caesar in Spartacus |
| Janet Leigh | Actor | 6-Jul-1927 | 4-Oct-2004 | Psycho |
| John McIntire | Actor | 27-Jun-1907 | 30-Jan-1991 | Christopher Hale on Wagon Train |
| Vera Miles | Actor | 23-Aug-1929 | | The Searchers |
| Simon Oakland | Actor | 28-Aug-1915 | 29-Aug-1983 | Tony Vincenzo on Kolchak |
| Anthony Perkins | Actor | 4-Apr-1932 | 12-Sep-1992 | Psycho |
| Lurene Tuttle | Actor | 20-Aug-1907 | 28-May-1986 | First Lady of Radio |
CAST
REVIEWS
Review by anonymous (posted on 27-Dec-2006)
Arguably the greatest piece of horror cinema ever made, Alfred Hitchcock drifted away from his suspense thriller films and towards the horror film. Marion Crane (Janet Leigh) need a place to rest, noticing the remote and isolated Bates Motel while driving down a highway, she meets Norman Bates, a strange man working at the desk...she eats dinner with him, then takes a shower. One of the most infamous scenes in Cinema, Janet Leigh is murdered by Perkins (a segment which by itself makes Hitchcock the "Master of Suspense"). Crane's sister and husband, along with a detective (Martin Baslam) try to unravel the mystery of her disappearance, the detective is killed and the two adventure even further into the mystery...leading to a horrific climax. Forty-five years ago, the film still stands as one of the most influential landmarks in cinema and is arguably Hitchcock's finest work.
---
Review by B Haskell (posted on 25-Oct-2008)
Turner Classic Movies has voted this movie as the best horror film of all time. It will be hard to beat it. The remake of it was poor (vastly poor). But how do you remake Hitchcock? Hitchcock knew how to use the potery of the film and this one was perhaps his best. The film has two parts to it. The first part is of Marion and her boyfriend Sam. Marion steals $40,000 and goes to meet her boyfriend to start a new life together. While going to him she gets tried one night and turns off into the Bates Motel. It is there that she meets an unfriendly end. The second part is the investigation into her end. Watch how Hitchcock uses the clouds to heighten the mood of fright. Also watch how Hitchcock takes his camera up to the top of the walls at the top of the stairs. Also watch how Hitchcock shows Arbogast (the PI) falling down the stairs after he is attacked. The ending of the film was so shocking at the time that theaters were told not to let anyone enter after the film started. This is a film you will want to see many times over.
---
Review by anonymous (posted on 5-Jul-2005)
Originally intended as an "in-house" film "joke", PSYCHO began filming at the turn of the late 1950's. Soon to follow, the script and acting made such an impression on Hitchcock and Univeral, it was decided to complete the film as a commercial feature. Over the years, PSYCHO was claimed as Hitchcock's masterpiece, much to the surprise of many. Ahead of its time and full of taboo shock, the feature became a "cult" favorite. Hollywood has paid its respects to the film by issuing several serials as well as an exact remake in the late 1990's. If you like showers, don't see this film!
---
Do you know something we don't?
Submit a correction or make a comment about this profile

Copyright ©2019 Soylent Communications