Commando (4-Oct-1985)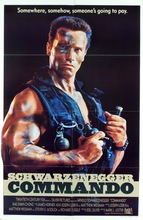 Director: Mark L. Lester
Writers: Steven E. de Souza; Joseph Loeb III; Matthew Weisman
Music Composed by: James Horner
Producer: Joel Silver
Keywords: Action/Thriller, Explosions, Unintentional Comedy




John Matrix is a black ops commando living in quiet retirement at his mountainside home. But after his former squadmates are killed one-by-one and his daughter kidnapped by former colleague Bennett in an effort to coerce him into assassinating a South American president, he commences a one-man war against Bennett and his army of henchmen. Ridiculous over-the-top action replete with one-liners; must-see.
[watch trailer]
CAST
Arnold Schwarzenegger
... Matrix
Rae Dawn Chong
... Cindy
Dan Hedaya
... Arius
Vernon Wells
... Bennett
James Olson
... Gen. Kirby
David Patrick Kelly
... Sully
Alyssa Milano
... Jenny
Bill Duke
... Cooke
Drew Snyder
... Lawson
Sharon Wyatt
... Leslie
Michael DeLano
... Forrestal
Bob Minor
... Jackson
Mike Adams
... Harris
Carlos Cervantes
... Diaz
Lenny Juliano
... Soldier
Charles Meshack
... Henriques
Chelsea Field
... Flight Attendant
Julie Hayek
... Flight Attendant
Hank Calia
... Latin Man
Walter Scott
... Cates
Gregory W. Elam
... Biggs
George Fisher
... Security Guard
Phil Adams
... Officer in Galleria
Ava Cadell
... Girl in Bed
Mikul Robins
... Boy in Bed
Branscombe Richmond
... Vega
Matt Landers
... Fred
Peter DuPont
... Daryl
Tom Simmons
... Kirby's Driver
Bill Paxton
... Intercept Officer
Richard Royce
... Intercept Officer
John Reyes
... Val Verde Heavy
Billy Cardenas
... Val Verde Heavy
Edward Reyes
... Val Verde Heavy
Vivian Daily
... Woman Officer
Thomas Rosales, Jr.
... Young Guerrilla
Ronald C. McCarty
... Guerrilla
Jim Painter
... Police Officer
REVIEWS
Review by anonymous (posted on 18-Aug-2005)
This is quite possibly the greatest action film ever made, with its brilliant off-beat humor and non-stop action. Arnold's dialogue and the characters the most memorable of any film that ever won a meaningless Oscar. Starring the Great Arnold Schwarzenegger as Colonel John Matrix, a retired army commando living peacefully until an ousted dictator played by Dan Hedaya forces him to kill the current president of the former despot's country, Val Verde. Starring the ever-awesome Bill Duke, David Patrick Kelly, and the master of badassness Vernon Wells, playing Bennett, Matrix's soldier that he had thrown out of the unit, and traitor to him, that kidnapped his daughter. This movie has infinite replay value due to the impressive violence and Arnold killing 80 people in it in many different ways. For example he drops Sully off of a cliff, breaks Henrique's neck, impales Bill Duke on a piece of wood, shoots Dan Hedaya in the chest with a shotgun, and the coolest death scene ever with Vernon Wells, the infamous steam pipe throw through the chest. Followed by the great "Let off some steam Bennett" one-liner after the death. It would take too many pages to describe this film's greatness, I only hope some day it comes out on DVD with special features, with many behind-the-scenes looks and possibly various commentaries. Stop reading this and buy Commando right now.
---
Review by kwazymon (posted on 8-Mar-2005)
This movie was kind of cool, in a retarded way. Arnold is a retired commando who's trying to lay low in the back woods with daughter Alliso. He's forced out of retirment when some evil drug-lord for unspecified reasons kidnaps kid to force Arnold to do his bidding. Arnold's gonna have none of that and tracks down the bad guy somewhere in South America, traversing the entire contnent of North America in one day looking for clues.
Arnold finds the guy, guarded by a British commando type guy and the final duel is predictable.
Good Scenes: Arnold while fighting the entire army of Columbia who are guarding the bad guy's house, comes out of a tool shed slinging circular saw blades at his opponents. Great stuff.
All in all, worth a peak at the video store.
---
Do you know something we don't?
Submit a correction or make a comment about this profile

Copyright ©2019 Soylent Communications