The Treasure of the Sierra Madre (6-Jan-1948)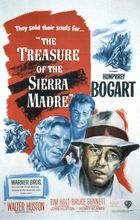 Director: John Huston
Writer: John Huston
From novel: Treasure of the Sierra Madre by B. Traven
Music by: Max Steiner
Producer: Henry Blanke
Keywords: Western




Two American drifters in Mexico meet an old prospector and get the gold bug, heading to the Sierra Madre Mountains; once they find gold it reveals their true character. Won Oscars for Best Actor, Best Director, and Best Screenplay; received a nomination for Best Picture. Entered 1990 into the National Film Registry. Catch the uncredited appearance by Robert Blake as a boy selling lottery tickets.
[watch trailer]
| Name | Occupation | Birth | Death | Known for |
| --- | --- | --- | --- | --- |
| Alfonso Bedoya | Actor | 16-Apr-1904 | 15-Dec-1957 | Doesn't need no stinking badges |
| Bruce Bennett | Actor | 19-May-1906 | 24-Feb-2007 | Played Tarzan in 1930s movie serials |
| Humphrey Bogart | Actor | 25-Dec-1899 | 14-Jan-1957 | Casablanca |
| Tim Holt | Actor | 5-Feb-1918 | 15-Feb-1973 | The Treasure of the Sierra Madre |
| Walter Huston | Actor | 6-Apr-1884 | 7-Apr-1950 | The Treasure of the Sierra Madre |
| Barton MacLane | Actor | 25-Dec-1902 | 1-Jan-1969 | Gen. Peterson on I Dream of Jeannie |
CAST
REVIEWS
Review by John Everitt. (posted on 22-Jun-2007)
I first saw this film in 1948. As a boy of fourten years of age. It coloured my drab London view on life like no other film has and filled me full of dreams. The classic reply declining a challenge to show his badge of authority delivered by Alfonso Bedoya remains as vivid in my memory today as when I first viewed the film. Surely this film would be a sitting duck for a remake. One of the greatest films I have ever seen. I never miss a chance to watch a replay on television.
---
Do you know something we don't?
Submit a correction or make a comment about this profile

Copyright ©2019 Soylent Communications