Spencer's Mountain (16-May-1963)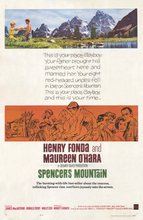 Director: Delmer Daves
Writer: Delmer Daves
From novel by: Earl Hamner, Jr.
Keywords: Drama




Three generations of Spencers have lived on Spencer's Mountain, now subdivided. For years, Clay Spencer has been building a larger dreamhouse for his wife on an unused parcel. But Clay's eldest son, Clayboy, is the first in the family to have ever graduated high school and there seems to be only one way to pay for his education. Sentimental melodrama based on Earl Hamner Jr.'s autobiographical novel, also adapted to television in the 1970s as The Waltons.
Judith Crist, The New York Herald Tribune: "The novel on which this effluent was based was set in Virginia's Blue Ridge Mountains, but Mr. Delmer Daves moved the whole thing to Wyoming. Picture-postcard scenery notwithstanding, Wyoming ought to sue." In response to Crist's scathing review, Warner removed all its advertising from the paper.
[watch trailer]
| Name | Occupation | Birth | Death | Known for |
| --- | --- | --- | --- | --- |
| Whit Bissell | Actor | 25-Oct-1909 | 5-Mar-1996 | The Time Tunnel |
| Wally Cox | Actor | 6-Dec-1924 | 15-Feb-1973 | Mr. Peepers |
| Donald Crisp | Actor | 27-Jul-1880 | 25-May-1974 | Silent film actor, survived into talkies |
| Mimsy Farmer | Actor | 28-Feb-1945 | | Hot Rods to Hell |
| Henry Fonda | Actor | 16-May-1905 | 12-Aug-1982 | 12 Angry Men |
| Virginia Gregg | Actor | 6-Mar-1916 | 15-Sep-1986 | Radio actress |
| James MacArthur | Actor | 8-Dec-1937 | 28-Oct-2010 | Dano from Hawaii 5-O |
| Maureen O'Hara | Actor | 17-Aug-1920 | 24-Oct-2015 | Miracle on 34th Street |
| Hayden Rorke | Actor | 23-Oct-1910 | 19-Aug-1987 | Dr. Bellows on I Dream of Jeannie |
| Hope Summers | Actor | 7-Jun-1896 | 22-Jun-1979 | Clara Edwards on The Andy Griffith Show |
| Dub Taylor | Actor | 26-Feb-1907 | 3-Oct-1994 | Bonnie and Clyde |
REVIEWS
Do you know something we don't?
Submit a correction or make a comment about this profile

Copyright ©2019 Soylent Communications